I finally get what they mean by earning your turns.
Fitted with sticky touring skins for traction, my unwieldy fat powder skis shuffle along like heavy railway ties. Stuffed with warm layers, shovel, avalanche probe, water and lunch, the pack on my back begins to feel like a masochist's sack of stones. This Sisyphean toil; is it really worth it?
It all depends. If you're looking for an easy day of playing in the snow, definitely not. You'll hate it; you'll hate the person who talked you into renting that touring gear, promising you an "epic" wilderness experience; you'll hate yourself for not signing up for spin class more often; you'll hate Mother Nature for seducing you and then cruelly exposing your feeble physiology.
But if you're like me, all that poisonous self-loathing will evaporate the moment you finally reach the top of that ridge and look down upon an untamed ocean of white, its rippled lines of peaks resembling gargantuan whitecaps. And you'll crack a satisfied smile, knowing how much fun that steep slope beneath you -- the very same pyramid of pain you've spent the last hour secretly cursing -- is going to be to ski. No crowds. No controls. Just untouched, untracked powdery lines beckoning to you like sirens in a whipped cream pleasure palace.
Yeah, backcountry ski touring is totally worth it if you're willing to earn those turns. From the summits of Whistler and Blackcomb, alluring wilderness ski and snowboard terrain stretches to the horizon in every direction. It's accessible, and begging to be shredded. All you have to do, as I did, is take the next step.
"With the evolution of equipment on piste and heli skiing has become easier and people want to access the backcountry more and more," says my touring partner, Peter Smart of Extremely Canadian. Whistler's renowned steep skiing clinic founder is now taking its legendary program into the backcountry, and Smart has invited me along for the ride.
Big line skiing. basic avalanche safety and mountain travel skills training are all part of the package. Suddenly, Whistler just got a whole lot larger.
As we strip off our skins and prepare to let 'er rip down Decker's unblemished face, Smart explains that although backcountry touring is growing in popularity, interest in the sport has yet to hit critical mass. "The major obstacle," says this former ski racer turned instructor," is getting the word out for people to realize that you can hire a guide and travel safely in the backcountry and have a great outdoor adventure as opposed to what you might hear about or see in the movies."
Safety, of course, is paramount. Avalanche risk is mitigated by employing members of one of the best mountain guiding associations in the world, the Association of Canadian Mountain Guides. And we start our day with avalanche transceiver rescue training before heading up the Glacier Express on Blackcomb Mountain and a rendez vous with backcountry bliss.
That's right, bliss. I can't think of a better word to describe the exhilarating act of "writing my name on the face of the Gods", as a wise mountain man once described backcountry touring's powdery pleasures. Sure, getting to the starting line was a bitch. But like anything worth earning in life, all that toil was worth it -- not to mention an incredible aerobic workout.

More Whistler out of bounds winter experiences
I'm not going to lie to you; after busting my butt earning those turns with Extremely Canadian, the sound of a chopper coming to scoop me up and onto another mountaintop is sweet music to my ears. And spending a day in a private alpine playground near Pemberton with Coast Range Heliskiing is tantamount to a walk in part on a ski porn flick.
This boutique operation specializes in taking small groups of four to five people heli-skiing or boarding in some of the most spectacular ski territory in Canada, with access to over 200,000 acres of diverse terrain - from wide open powder bowls to challenging glade skiing. The day I climb aboard, we manage to shred nearly 12,000 vertical feet of untracked powder. Designed for intermediate to advanced skiers and boarders and led by professional Association of Canadian Mountain Guides certified guides, Coast Range's four run Discovery Experience package is perfect for first time powder pups. Here's a video of what you can expect.
Looking for something slower and mellower? Snowshoeing is one of the best ways to experience the subtle beauty of Whistler. The area gets over 10 metres (33 feet) of snowfall every year, and snowshoes allow you to travel on foot through open bowls and old-growth glades. Passing through forests of hemlock, fir and cedar, you'll enter a world of rare and peaceful serenity. Guided tours are available at Green Lake or Whistler Mountain, or you can head farther afield to wilderness areas like Joffre Lakes Provincial Park. .
Skiing doesn't have to be all about fall lines, lift lines or the quest for perfect powder. Cross-country has been an integral part of alpine culture for centuries and it combines great cardiovascular exercise with the chance to travel quickly and silently through snow-laden trees. The Whistler area has some world-class cross-country terrain, with over 130 kilometres (81 miles) of trails on offer. Check out Lost Lake Park -- it's close to Whistler Village and includes lighting for night skiing and a warming hut. Beginners' lessons available for both classic and skate technique.
Nestled at the base of Blackcomb Mountain, the historic Fairmont Chateau Whistler is the resort's landmark ski-in ski-out hotel. Its Ultimate Whistler Ski Experience package offers two nights of accommodation and two adult Whistler Blackcomb ski lift passes. Rates start from $404 per night based on double occupancy and are available for stays until April 30, 2013.
Whistler-based Extremely Canadian offers full-day backcountry skiing, telemarking or snowboarding adventures, as well as inbounds 2 day steep skiing clinics and private lessons.
Pemberton-based Coast Range Heliskiing offers small group heli-skiing and heli-boarding trips in BC's Coast Mountains.
Take five hot young pro adventure sports photographers, give them just 72 hours to shoot with incredible athletes anywhere in-bounds at Whistler and the result is the mind-blowing visual experience that is the Arc'teryx Deep Winter Photo Challenge.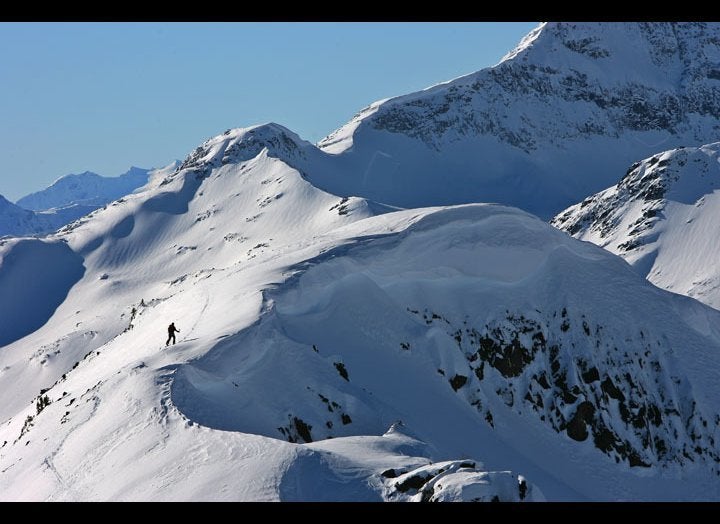 Wilderness Skiing In British Columbia