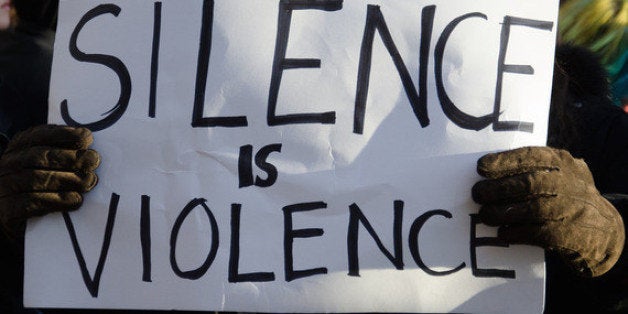 Co-authored by Rachel Anspach

This week, as we mark the one year anniversary of the Charleston massacre, the country is reeling from another mass killing rooted in hatred. One week ago, Omar Mateen opened fire in Pulse, a queer club in Orlando, killing 49 and wounding 53 as they celebrated Latinx Night. Clearly, as a country we have failed to deeply or meaningfully grapple with the realities of racism, patriarchy, homophobia and hate in America.
During the twelve months bookended by the massacres in Charleston and Orlando, terrifying acts of racialized and gender violence have followed one after another. We have seen former Oklahoma City Police Officer Daniel Holtzclaw's trial for serial sexual assault of vulnerable Black women in the course of duty. We have learned about Brock Turner, the white Stanford student who received a six-month jail sentence for brutally raping an unconscious woman behind a dumpster due to the judge's concern that a longer sentence would have a "severe impact" on the swim team star. We watched as Jasmine Richards, a Black Lives Matter activist, received a prison sentence eight times the length of Turner's after being convicted of a felony lynching for interfering with a protest related arrest. We've seen cops continue to kill men, women and children of color with impunity, and time and time again, not face any legal consequences for doing so.
And now we have seen Orlando.
It's hard not to feel hopeless in the wake of what we have witnessed. It's hard to feel like anything we can do will make a difference.
As white feminists, maybe a first step can be acknowledging and speaking with each other about the ways we are implicated in the racist patriarchy that gave rise to what happened on Charleston, in Oklahoma City and in Orlando.
"You rape our women, and you're taking over our country, and you have to go." These are the words that Dylann Roof reportedly uttered before opening fire on churchgoers at the historically Black Emanuel African Methodist Episcopal Church in Charleston, South Carolina on June 17, 2015, killing nine parishioners in the midst of bible study. Roof's disturbing manifesto was predicated upon both racism and patriarchy, and his words and actions serve as a harsh reminder that in order to root out oppression and violence, we must combat multiple bases for marginalization at the same time. Despite this claims of protecting white women from Black men, most of Roof's victims were Black women.
As members of the queer community, we can insist that our movement centers those who are most targeted by society -- people of color, trans and gender nonconforming folks, undocumented folks, those living in poverty -- the subsets of our community living in the crosshairs of multiple oppressive systems.
We must be willing to acknowledge that while the shooting at Pulse is deeply upsetting to the LGBTQ community as a whole, it is queer people of color, those targeted by the attack, who will feel its aftershocks most acutely. Where will undocumented queer folks find safety, now that Pride events and gay clubs are being so heavily policed? Where will Muslim queer folks find safety, now that they are being criminalized and pitted against the rest of the LGBTQ community by the media? Where will Black queer folks find safety, knowing that presumptive safe havens from white supremacy such as Black churches and clubs for queer people of color have both been the sites of racialized terror in the past year, and are now more heavily policed than ever?
Without intersectionality -- a concept coined by Kimberle Crenshaw to describe the ways in which multiple facets of our identities overlap to give rise to unique forms of marginalization -- we fall into the danger of erasing those who are most impacted by the tragedies from the narrative.
Last Tuesday, Representative Pete Sessions (R-TX) was quoted as saying that Pulse was not a gay club because most of the Orlando victims were Latinx. "It was a young person's nightclub, I'm told. And there were some [LGBTQ people] there, but it was mostly Latinos." Sessions' failure to recognize that individuals can identify as both queer and Latinx is a prime example of intersectional erasure. While his statement was blatantly ludicrous, the underlying failure to acknowledge that this tragedy specifically targeted queer and trans people of color has been reinforced by mainstream media and politicians across the political spectrum.
This erasure is dangerous. It divides marginalized groups and serves to distract attention from the root causes of American violence and inequality. It's up to us to counter this narrative. Silence in the face of the status quo is complicity. As the death toll of those killed by white supremacy, toxic masculinity and homophobic hate continues to mount every day, we cannot afford to be silent.
It is urgent that we repudiate all violent, hate-filled actions and rhetoric being undertaken to protect our (perceived) way of life, whether that be enacting violence against Black people for the sake of "protecting" white womanhood or waging a war against the Islamic faith for the sake of defending the LGBTQ community. We call on fellow white people to join us in insisting on a movement that acknowledges and grapples with the overlapping layers of institutional oppression and hate-based violence, and that amplifies the voices of those who are too often silenced by society.
Calling all HuffPost superfans!
Sign up for membership to become a founding member and help shape HuffPost's next chapter