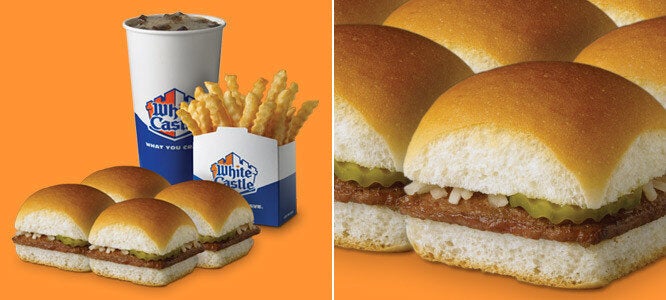 White Castle is the latest fast food establishment that is toying around with the idea of selling beer and wine in order to boost business. According to the Columbus Dispatch, White Castle is testing beer and wine sales at its Lafayette, In. location. The site hosts not only a White Castle but also a Blaze Modern BBQ. Blaze Modern BBQ is one of the three new concepts that White Castle is experimenting with -- Laughing Noodle, an Asian concept in Springfield, Oh. and Deckers, which sells grilled sandwiches in Lebanon, Tn., and are also new ventures for White Castle as of last summer.
Chains like Chipotle and the ever-growing Shake Shack already serve alcohol. With all of the fierce competition between fast food restaurants (see here, here and here, for starters), it's no surprise that chains want to find other ways to make a profit and stand out. But it seems like if one finds success in the alcohol game, others will likely follow suit.
"This was something that customers had been suggesting," said Jamie Richardson, a spokesman for Columbus-based White Castle System Inc. "They thought that beer and wine might go nicely with the barbecue that was available at Blaze. We're certain that we might have some customers who might enjoy some sliders and a beer or wine as well."
...
Customers have had a "very positive" reaction to the alcoholic beverages offered in Indiana, but for now, White Castle is considering only whether to expand them to the two other co-branded restaurants, Richardson said.

White Castle would face challenges trying to roll out beer and wine on a wider scale, Henkes said.

"What we find with fast-food places is, there's very strict regulations around training. Typically, a lot of the employees in fast food are under 21, so you get into some service issues," he said. "You get into some inventory issues. You get into whether distributors are willing to deliver to you because you're generally not doing a whole lot of volume in these categories."

Adding beer and wine to the menu sounds fine to lifelong White Castle fan Jim Kreml of Elk River, Minn. – even though he's a teetotaler. "I know my wife would love that because she is a wine drinker," said Kreml, the operator of a chimney-cleaning business who acknowledged he eats at the restaurants "a couple of times a week."

Kreml, named in 2009 to White Castle's Cravers Hall of Fame, said Wednesday that he would expect alcoholic beverage options to be popular with many slider aficionados. "If they're of age and they drink that already, I think they'd be happy with that. As long as they're responsible and don't sit in there, and that's not party time," he said.
Related
Popular in the Community