White Castle is getting a makeover.
The Columbus, Ohio, fast food chain last week unveiled what a executives are calling the "kitchen of the future" -- a stainless-steel and glass griddle set within a wall-free kitchen that allows patrons to see their burgers being cooked. The open kitchen, pictured below, is currently only operational at a single White Castle restaurant in Elizabethtown, Ky., but Shawna Jones, regional director of restaurant operations, told the Hardin County News-Enterprise that the plan is to test-drive the kitchen in the Elizabethtown location before rolling out the changes nationally.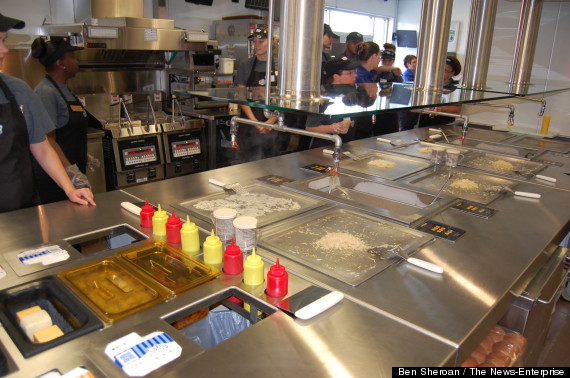 Photo via The News-Enterprise.
White Castle executives said the idea behind the new look is to provide people waiting for their burgers a bit of food-related entertainment -- using an open kitchen to amuse customers in the same manner as knife-wielding sushi chefs and dough-tossing pizza cooks do at other restaurants.
"It's an entertainment thing," Joseph Carrizales, a general manager at White Castle unit PSB, which manufactures the restaurant's appliances, told The Huffington Post. "You might have families come in with children who are going to say 'Look, Mommy! Look, Daddy! Look at what they're doing!'"
Carrizales said the open kitchen plan is also a nod to the company's history. When White Castle was founded in 1921, he said, Americans were wary of hamburgers -- seeing them as unhealthy patties made of bits left over in the slaughterhouse. White Castle tried to change that perception by offering patrons a peek into the kitchens where their five-cent burgers were being cooked and by making sure employees kept the stainless steel and porcelain restaurant interiors spotless, Carrizales said.
While sporting an open kitchen is somewhat of a growing fad among quick-service restaurants, White Castle would be the first fast-food burger joint to embrace the trend on a large scale. With it come some unique engineering challenges.
"We had to set up a new type of smoke trap designed with cyclonic action, which more efficiently takes away the smoke and grease," Carrizales said. "We also designed a system to keep moisture from leaving the grill too quickly. It's basic stuff, but it's based on science."
One of the first people to test that science was Elizabethtown Mayor Edna Berger, who last week cut the ribbon to officially open the White Castle in her town. The mayor then cooked the first batch of beef patties, as restaurant employees and their families chanted "Burgers! Burgers!" a few feet away.
Berger told HuffPost it was a "neat" experience to cook for her constituents.
"It's not the perfect food, but it sure is tasty," she said.
REAL LIFE. REAL NEWS. REAL VOICES.
Help us tell more of the stories that matter from voices that too often remain unheard.
BEFORE YOU GO
PHOTO GALLERY
10 Things The Fast Food Industry Doesn't Want You To Know