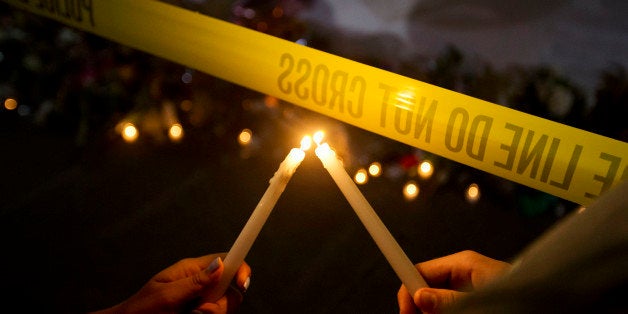 I don't want to pray for Charleston. I can't. I am an Itinerant Elder in the African Methodist Episcopal Church, yet, prayer doesn't seem like enough. I need action. I need change.
The group of faithful members of Emanuel African Methodist Episcopal (AME) Church in Charleston, South Carolina, were praying Wednesday night when a shooter invited himself into the church and terrorized the members, leaving nine dead. A 5-year-old little girl had to play dead just to survive. This imagery instantly takes me back to the history of violence in churches due to hundreds of years of anti-black racism. It's a memory that takes us back to the day four girls were murdered in the bombing of the 16th Street Church in Birmingham in 1963.
And yet, the AME church was formed to escape the violence of racism.
In 1787, Bishop Richard Allen and his colleagues walked about of St. George's Methodist Episcopal Church because they were not allowed to pray at the altar. Together, they formed the Free African Society, a space where black enslaved individuals could worship freely, in our own culture, not segregated to the balcony or the back of the church, and with the ability get loud or stay quiet as they caught the spirit. These black havens were so powerful that our country outlawed all-black churches in 1834.
As I studied our church's history through my ordination training, I grew more proud of this history and of the resilience of black people in the struggle for our freedom. For centuries, the black Church was the only entirely black space for those who worked as maids, butlers and sharecroppers. Even in the present generation, it remains one of the few solely black spaces we have. It is a space free from having to speak up about race daily at my job, of the feeling of looking different than most of the people I spend my days with. Living in a racist and racially defined society is exhausting. The church is my place to refresh and escape from the legacy of racism.
The people at Emanuel African Methodist Episcopal Church could not escape the legacy and violence of racism, even in their sacred black space.
Why? Because we live in a country where black spaces cannot thrive.
This shooting was not a senseless crime. It makes perfect sense that a white man, who, by virtue of his skin color and gender, is able to enter any space, specifically spaces that are marked as a safe haven for black lives, and wreak havoc. It makes sense in a country where white children beg for the ability to use the word "nigger" despite knowing that it is a hateful word. It makes sense in a country where white people, when not invited to certain spaces, to speak a certain language, to wear a certain style of dress and hair, hijack them and the many rush to defend them. It makes sense in a country where most of the occupiers of the prisons are black men, for drug-related crimes, when whites and black use and sell drugs at the same rates. It makes sense in a country where the police open fire on black youth, and when the black community march in the streets in protest of the violence, they open fire, again.
As I scrolled through my Facebook feed the morning after the shooting, many AME colleagues called for us to pray for the Emanuel AME Church family. I also noticed the number of white Christian allies sharing their anger through photos, memes, articles and, of course, Martin Luther King quotes. It saddened me that white Christians seem angrier that this happened in a place of worship, a space that they are familiar with, than that it happened to a group of black people. I'm glad they are angry, but they're not angry for the same reasons I am. They're not angry at the root cause of the problem. To end racism, the world needs white Christians to address their own racism.
To my white Christian brethren, I don't need for you to tell me how angry you are. I need you to tell your white family members, friends and congregants. I need you to talk about your anger at racism and white supremacy from the pulpit. I need you to urge your congregants to address racism in their own family. White folks know who their racist family members and friends are -- now is not the time sit idly by and ignore it. We must face those who we love, and challenge their prejudice. White folks must say, "no more" to racism, especially when it's a system that they benefit from.
I urge white pastors in all white churches to have racial justice conversations as a part of their Bible studies and sermons. There are many passages of Scripture than can be used to address slavery, such as Galatians 3:28, "There is neither Jew nor Gentile, neither slave nor free, nor is there male and female, for you are all one in Christ Jesus." White pastors can lift up the stories of Hagar, Rahab and Ruth, all women who were "othered" in the Hebrew narrative, but they were all instrumental in building the nation of Israel.
I urge white pastors to study liberation theology, and read passages of Scripture with a critical racial lens. As Congressman Jim Clyburn said when addressing his community after the massacre, "If we stay silent, they win. They must not win."
I'm asking white allies to join me in my commitment to anti-racism, but to do so in your own communities.
Now is the time to stand up for the sanctity of black lives. We must not stay silent, at the pulpit or in the streets. We must speak out to end the violence and racism that permeates our society.
Related
Popular in the Community