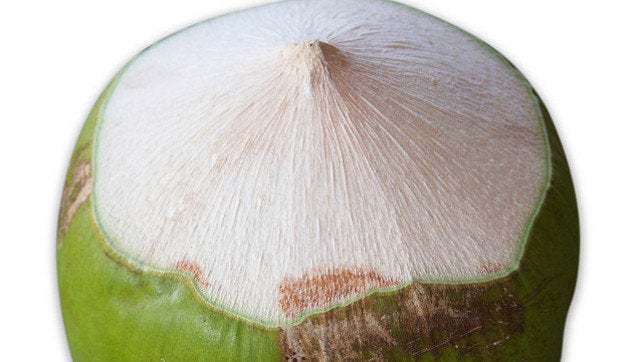 THE SPLENDID TABLE'S HOW TO EAT SUPPER
By Lynne Rossetto Kasper

Host, The Splendid Table®, American Public Media's national food show and co-author of The Splendid Table's How to Eat Supper: Recipes, Stories and Opinions, and the new How to Eat Weekends. Ask questions and find Lynne, recipes, and station listings at splendidtable.org, or 800-537-5252.
Copyright 2012 Lynne Rossetto Kasper
I saw something labeled "white coconut" at the supermarket. Coconut is not something I like but I am curious. It was a big beige hunk the size of honeydew, wrapped in plastic. What is it?
Jannie from Redford


Dear Jannie,
This might convert you. Some Asian markets call them "drinking coconuts." They are young coconuts stripped of outer skins down to their soft husk. Through about an inch of husk is their shell. Inside is luscious coconut water. Lining the shell is immature, pudding-like coconut meat.
At farmer's markets in Hawaii often vendors will have piles of big green coconuts that they'll trim to order with huge machetes. Then with a neat twist of the tip of the blade they cut a hole in the top. Drinking that cool coconut water in the hot sun is heaven.
In restaurants "drinking" or "young" coconuts are presented with a hole poked in the top, a straw for easy sipping and sometimes a spoon. Once the water's gone you scoop up the flesh.
For freshness, they should be sold chilled. Buy where there's an Asian community to guarantee quick turnover. Reject any with any signs of mold or deterioration. Keep the coconuts cold until serving. Create a hole in the pointed end of the nut that is large enough for a spoon by using a knife. For harder nuts, tap a triangle of punctures with a screwdriver and hammer, and then ply out the plug.
Spoon Fruit with Coconut "Pudding" and Fresh Coconut Punch
15 to 20 minutes prep time.
Serves 1 and multiplies easily
You barely need a kitchen for this dish. Get some ripe peaches, nectarines or mangos, sugar, lime and a little rum; you could be on your way to a delectable dessert.
1 young or drinking coconut
Sugar as needed (about 3 tablespoons at most)
Juice of 1 lime, divided
1 ripe medium mango or 2 small peaches or nectarines, peeled and cut
into bite-sized chunks
1 ounce rum
1. To make the coconut "pudding" pour the coconut water out of the coconut into a pitcher and chill. Cut off the top third of the coconut and scoop out the soft meat. In a blender puree it with 1 to 1-1/2 teaspoons sugar and a little fresh lime juice to taste. It should be sweet and creamy with a hint of tartness.
2. Pile the fruit in a wine glass, lightly sweetening it with some of the sugar if you'd like. Pour the coconut "pudding" over it.
3. Make the punch by adding the rum to the chilled coconut water with a little lime juice. If desired, lightly sweeten the drink. Pour it over a tall glass of ice. Serve with the fruit and coconut "pudding."