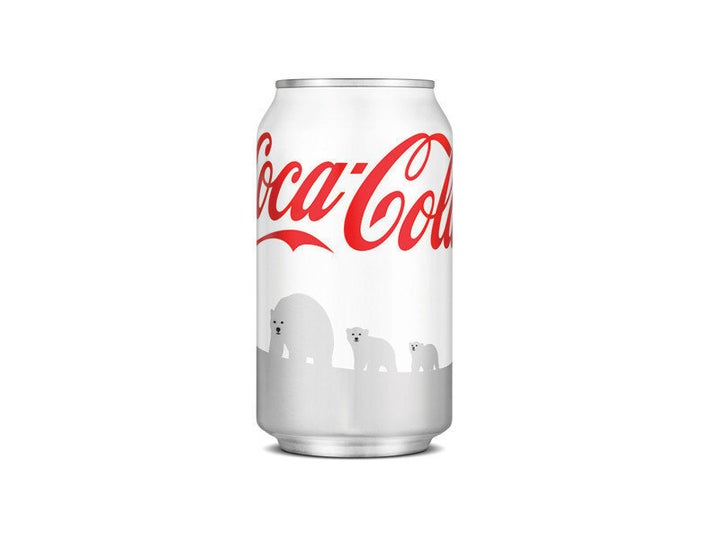 Have you seen the new Coke can yet? Beginning November 1, 1.4 billion of Coke's famous red cans will be turning white in honor of the world's polar bears.
Coca-Cola announced a special partnership this week with the World Wildlife Fund (WWF) to raise money and awareness for the threatened species. Polar bears have long been a part of Coke's image, and the company felt there was an opportunity to do more for the bears.
Muhtar Kent, Chairman and CEO of The Coca-Cola Company, said in a press release, "We want to help the polar bear -- a beloved Coca-Cola icon since 1922 -- by helping conserve its Arctic habitat."
"That's why we're using one of our greatest assets -- our flagship brand, Coca-Cola -- to raise awareness for this important cause. And by partnering with WWF, we can truly make a positive difference for these majestic animals," Kent added.
Andy Derocher, a leading polar bear scientist from the University of Alberta, told The Canadian Press this sort of partnership is the way to go. He said, "We need to find these private partnerships with non-governmental organizations that want to work with northern communities to try to establish long-term conservation monitoring programs. We are not seeing that leadership come from the federal government."
In the U.S., some steps have been taken to protect polar bears. Last week, a federal judge in Washington, D.C. upheld a 2008 ban on U.S. imports of polar bear trophies. Hunting groups had "filed suit against the [U.S. Fish and Wildlife Service] claiming that the ban violated existing laws and that trophy-hunting actually helps this imperiled species," wrote HuffPost blogger Jeffrey Flocken.
Yet the future of the Arctic's polar bear population remains uncertain. Experts has suggested the decreasing extent of Arctic sea ice, which has been connected to climate change, is forcing polar bears to swim for longer distances and limiting their ability to hunt seals.
Gerald Butts, president and CEO of WWF Canada, told The Vancouver Sun, "We really hope that this is one of those issues where regardless of what you think of the causes of climate change, its realities are inescapable and nowhere is that more true than in the Arctic."
Along with the white cans, expect to see white caps on bottles of Diet Coke, Sprite and many of the company's other products, according to The Coca-Cola Company. The white Coke cans will be in stores through February.
The new Coke cans are not Coca-Cola's first partnership with WWF. In June, Coca-Cola unveiled a "living billboard" in the Philippines. The billboard, which is made up of 3,600 Fukien tea trees, is expected to absorb 46,800 pounds of carbon dioxide from the atmosphere.
For more information about The Coca-Cola Company's Polar Bear Support Fund, visit their website.
Support HuffPost
The Stakes Have Never Been Higher
Related
Popular in the Community