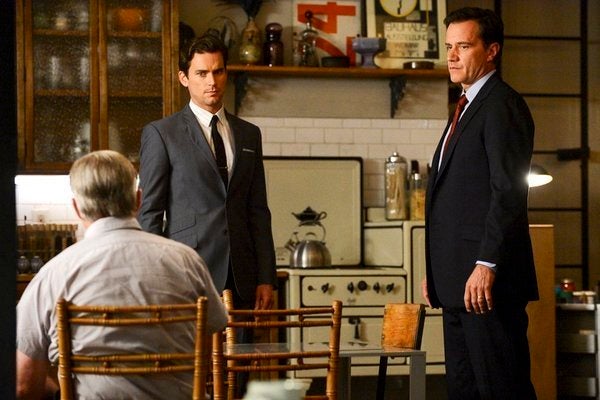 "White Collar" returns with a new episode tonight (Jan. 22 at 10 p.m. EST on USA) and the final batch of episodes promise plenty of drama for our favorite con-man, Neal Caffrey (Matt Bomer) and his long-suffering partner in fighting crime, Peter Burke (Tim DeKay).
During a recent interview with Bomer, the star previewed a number of twists and turns in the remaining six episodes of "White Collar" Season 4: "Obviously, we're going to expound on the fact that Treat [Williams] is my father and what does that mean to Neal and who he is and where he's going? And a lot of tension ensues," Bomer said. "There's a whole web of deceit going on in the upper echelons of the FBI that they're trying to sort through, and it ends on an even more dramatic note."
To learn more about this "web of deceit," HuffPost TV sat down with "White Collar" creator, Jeff Eastin, to learn more about what's coming up for Neal, Peter and the rest of the white collar crime division when the show returns all-new with its midseason premiere. Spoilers ahead.
You ended with an amazing midseason cliffhanger, which revealed that Treat Williams truly is Neal's father, James. How does the dynamic with Neal and James evolve in the episodes coming up?
The tough part about breaking the season up the way we do is that we have to do basically double the number of finales. It's always kind of difficult. But these were particularly tough because we come back for Episodes 11-16, which is like six episodes. It's very hard to really kick that into gear for the back half.
Really, we started in Season 1 even hinting that it was very important for Neal to know who his dad is. The backstory was set up, and it's actually out there already. Neal grew up in WitSec, he had no idea his name was Neal. No idea about Neal Caffrey until his 18th birthday. He had always told Ellen and his mom, "Hey, I'm going to go be a cop like my dad," because his mom would always say, "Your dad was this hero in a white hat who shot at all the bad guys." Then, on his 18th birthday, Ellen tells him the truth, and he freaks out -- it literally unhinges everything he ever knew about himself, which really messes him up. So for Neal, it became this, "I thought this is who I was and I thought my dad was this guy."
And one of the things we never really said but was designed from the beginning was that Peter really is a surrogate father for him. So that starts hitting pretty close to home because now, Neal is sitting there looking at this guy, James, and he's not happy about it. "I've always wanted to meet my dad, but you fucking lied to me, and did all these things." So really, the arc in this short, short piece of the season that we've got ... sort of subconsciously, Peter's like, "I'm his dad." He'll never say it, but Elizabeth [Tiffani Thiessen] finally calls him on it, and says, "You think you're this kid's father, but you're not, Peter."
What happens is, initially, Peter and Mozzie [Willie Garson] both get behind [James' reappearance], and Mozzie is like, "Look, we're both orphans. How often does an orphan get a chance to meet his parents?" So Neal does kind of get close to his dad, and then, as we progress, Peter and Mozzie then start questioning James. "Is he really here? Is he trustworthy?" Now, Neal is like, "Fuck you guys."
Right, they pushed Neal towards him in the first place ...
You pushed me towards him, and whatever. So we have that piece where it breaks Peter and Neal up for a while, and then, let's just say that as things continue, they are sort of forced back together, and actually become incredibly close for the big finale.
Obviously, there's also this FBI conspiracy going on in the upper echelons of the bureau, which was touched on with Agent Kramer (Beau Bridges). What can you tease about that storyline?
For me, the coolest part is, the bad guys get Hughes (James Rebhorn) fired. In terms of the upper echelon, I'll just say there is a really great scene where Hughes gets fired, but he pulls Peter into an empty café, five in the morning, and he starts playing him a conversation that happened at the FBI. Peter realizes that it was recorded by the NSA, and he's like, "My God, why are we even listening to this?" And he's just like, "Listen to it." That's all I can say about it. That's pretty cool.
"White Collar" airs Tuesdays at 10 p.m. EST on USA.
Are you excited for "White Collar's" return? Do you think James can be trusted? Weigh in below!