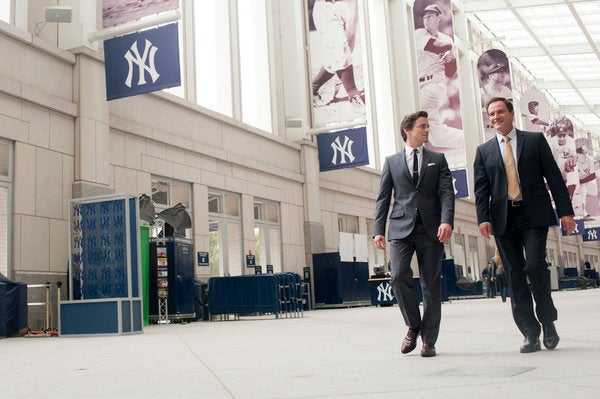 Tim DeKay played catcher throughout his high school baseball career, a position often described as the director of the field. That seems fitting for the "White Collar" actor, since he directed Tuesday night's all-new episode (8 p.m. EST on USA), entitled "Stealing Home."
"It's the only player who faces a completely opposite direction than all of his teammates," DeKay told HuffPost TV. "The catcher sees the entire field, knows what everyone should be doing."
So when he found out that he was going to get the chance to direct an episode of "White Collar," DeKay -- who already has a few short films under his director's belt -- was ready for the challenge. "They knew that I wanted to direct since Season 1," said DeKay. "They approached me and said, 'You should direct next season.' Consequently, I'll be directing an episode every season. Fortunately, the stars aligned, and I got to direct a baseball episode."
In the episode, Peter and Neal (Matt Bomer) find themselves tasked with taking down a con man who is attempting to steal a priceless baseball artifact from the new Yankee Stadium. Peter, who we find out was a former minor league big shot (with the rookie baseball card to prove it!), is beside himself with excitement, caught up in the mysticism behind the legendary stadium. In fact "White Collar" fans can expect to see a bit of a role reversal, as Peter gets a little too excited.
HuffPost TV chatted with DeKay about his experience behind the camera, his fascination with Yankee Stadium and what Neal's impending commutation means for Peter and Neal's friendship. We also scored an exclusive sneak peek at the episode, and a sweet "White Collar" giveaway for one lucky reader. (Details below.)
There was definitely a lot of mysticism in the episode. At one point, I was pretty certain that Peter had a "Field of Dreams" moment. Was that intentional?
I loved all of those baseball movies, and I think part of what made the episode feel so mystical was the empty baseball stadium. To be honest, I don't think there's anything more exciting than an empty stadium. When you see it empty like that, all you see is possibility. I wanted to make sure that we got that.
We learned in the episode that Peter made it to the minor leagues. Did you play baseball as well?
I was a baseball player. I played in high school and a little bit in college. I was a catcher. I don't know if I could have played any other position. As a catcher, you're always on the ball.
There's a great shot in the episode where Peter and Neal have that catcher's view.
Funny you should say that because we almost didn't get that shot. They wanted us to shoot from a different angle, but I was like, "You can't do that!" This was the moment that I truly became "The Director." I couldn't let them ruin my vision. I told them that we have to shoot behind home plate. That's the only way that you get that sense of infinity. Needless to say, I won that argument.
Now, this is also the first production to have been filmed in the new Yankee Stadium. Obviously, that meant there was a lot of pressure, right?
That's exactly it! We didn't know that we were actually going to get Yankee Stadium until two days before we started shooting. It could have been the Brooklyn Cyclones or perhaps the Staten Island Yankees. We actually used the Staten Island Yankee Stadium in a couple of scenes, but for the most part, it was all Yankee Stadium. It was a great honor, and what was really neat for me was to see the crew going into Yankee Stadium and taking pictures. Everyone was so excited.
Being a New Yorker, I've had the privilege of seeing many games there. It's giant!
Oh, it's huge, and it's well put together. It may be giant, but we were all sitting in different seats, and there truly is not a bad seat in the house. Of course, it's great to be two rows up from Derek Jeter on the deck circle, but if you're way out in left field, there's beauty from every angle.
Sadly, Derek Jeter did not make an appearance in the episode ...
We ran the gamut there, with Derek Jeter and Reggie Jackson, who's rather prominent there in the front office, but we didn't end up getting them. I was okay with that. Those cameos are tricky. They can be great -- because you have Derek Jeter as a cameo -- but they can also kind of glare as a cameo. It's like the audience is suddenly hyper-aware that we're filming in Yankee Stadium, as opposed to just telling a story.
Well, and it also takes a minute or two away from the story.
It does. It's a bit of a coda, like, "Oh, they got him." Then the audience will leave the story for a bit.
"Stealing Home" is a very Peter-centric episode. How did you go about directing yourself?
I've been with Peter for a long time now, so I get him. [Laughs] But also, Matt [Bomer] gets him, and the writers get him, so once I went out there in front of the camera to play Peter, it was great. Most of the time, you know what feels right, but sometimes I look toward the writer, who was behind the monitors, and he'd say, "Maybe try it this way or that way." And then I'd go to Matt and ask him what he thought.
Did you tend to replay the scenes you were in?
I never replayed it at all. [Laughs] There was talk about maybe getting another monitor so that I could see my take, but that takes up a lot of time, to go back and to watch it. I think that I was wisely advised by producer Jeff King not to do it because the labor wouldn't have been worth it.
What was the most frustrating moment on set for you, as the director?
It was smooth sailing for the most part. There was one particular scene where Peter and Sarah [Hilarie Burton] have a conversation on the street. During prep, I was planning to shoot it on one particular street that had a great building. We started shooting at 9 a.m. there, and for whatever reason, it was an incredibly hot day. There was so much sun. When we went to shoot it, the director of photography was like, "This isn't going to work. She's not going to look good. I really don't think we should shoot it here." And at that point, 100-plus crew members are just staring at me. It felt like all of New York stopped -- the cabbies, everyone -- and they just looked at me. I looked at a street adjacent to us and said, "What about that street?" It was amazing. Within five minutes, the crew had moved everything.
That last scene, where Neal and Peter were on the field, were you really on the field?
Here's what happened. We were on the field in the Staten Island Yankee Stadium, and we shot that scene there, and it rained. And then the day that we were at Yankee Stadium, the Yankees saw how well we behaved, and they told us that we could go on the field for just a little bit. There were no microphones, no sound or anything, but we were able to get that cool panning shot of the stadium behind us. It was pretty exciting to be able to say that I've played catch at Yankee Stadium. I took a little piece of grass, and put it in my pocket, and then I forgot about it. Wardrobe was like, "Why is there grass in your pocket?"
You didn't get to run the bases?
No, they wouldn't let us do that, but I did have my son's glove. I use my son's glove in the episode to play catch.
We know that Neal's commutation is coming up in the finale, and that it's going to come down to Peter's decision ...
Right. The season finale is Neal's commutation, and as Neal and Peter have said to each other, it comes down to Peter's decision and what he says, but there's another factor that comes into play. Agent Kramer (Beau Bridges) is going to throw a wrench in the whole thing, but his actions are justified. As wrong as they seem to Peter and Neal, his actions are justified, and they're not Machiavellian in nature. You understand his agenda as well. It's the best cliffhanger of all three seasons.
There's always that sense of doubt in Peter's mind about Neal's motives. Even in the episode that you directed, Neal doesn't tell Peter the whole story. Will those two come to a head in the finale?
Of course! He's constantly faced with that decision where he knows that Neal is omitting some truths from him. Peter doesn't want to put Neal on the spot and ask him, but in the season finale, Peter asks Neal a question about something, and it's a great moment between the two. Peter wants to trust him, but he never will, and Neal doesn't trust Peter either. But the two of them do love each other. He's constantly rooting for Neal. He wants him to do well.
"White Collar" airs Tuesdays at 8 p.m. EST on USA.
Watch our exclusive clip from Tuesday night's all-new episode, directed by DeKay. Neal is getting close to finally getting his anklet removed, but of course, Mozzie has a scheme that is too good to be true, and he's trying to convince Neal to get on board to be point-man for infamous Gordon Taylor's next big score.
ENTER TO WIN HUFFPOST TV'S "WHITE COLLAR" FAN GIVEAWAY BELOW:
Are you the ultimate "White Collar" fan? Just tell us your favorite episode in the comments section below to enter to win the ultimate "White Collar" prize pack, worth $325, including:
Custom Waxwear Shoe Bag
Shoe Brush
Jet Black Playing Cards
Custom Reporter's Notebook
Black long sleeved Shirt
Cashmere Scarf
Season 1 DVD
Jerboa Speaker ($75 value)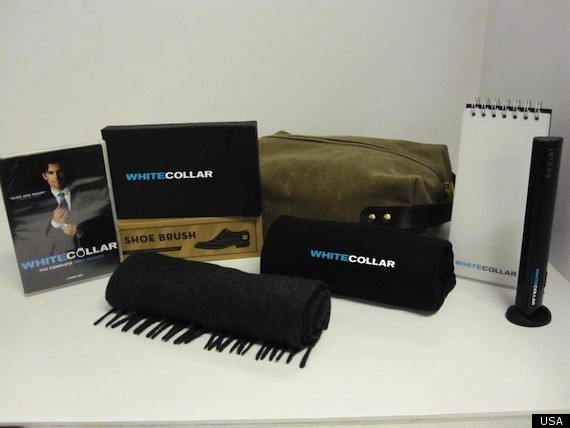 Here are the rules and a bit of legal jargon:
Open to legal residents of the 50 United States, the District of Columbia and Canada (excluding Quebec) who are 18 and older.
To enter, tell us your favorite "White Collar" in the comments.
The comment must be left before February 28 at 5 p.m. EST to be considered.
One entry per person please.
One winner will be selected in a random drawing.
The one winner will receive the "White Collar" prize pack at $325 value.
Calling all HuffPost superfans!
Sign up for membership to become a founding member and help shape HuffPost's next chapter