Another summer, another obsession with a Lee Bros. recipe. Before all of you hispanophiles get ready to throw stuff at me, let me clarify: the white gazpacho I am currently obsessed with is not an authentic, Spanish white gazpacho. It contains no almonds or grapes. It commits the grave sin of including cucumbers and yogurt. Is it really white gazpacho? Not really, but it is delicious and amazing, and I want you to give it a chance anyway.
The white gazpacho that gets made roughly once a week all summer long in my kitchen comes from The Lee Bros. Simple Fresh Southern. It marries a cooling, cucumber and yogurt soup with a vinegary fresh tomato salsa. It is perfect every time, even though every time is a little bit different.
The genius of this recipe is twofold: one, it is hyper-simple. It requires no heat, only a blender and bit of chopping. But also, the salsa that you spoon over the soup as you plate is a perfect base for experimentation. The version in the book calls simply for tomatoes, onions, cilantro and vinegar. In recent weeks, it's also included fresh peas, pickled mushrooms, avocado, cubanelle peppers, fresh basil, on and on into infinity.
Two other small tweaks I've started making over and over again: while the blender is whizzing together your yogurt, cucumber, vegetable broth, garlic and jalapeño, I like to add just a touch of olive oil. It amps up the already velvety texture of the soup. I've also taken to finishing the soup with another drizzle of olive oil, which floats gently on top, and adds a little more delicious richness to every other bite. This recipe is summer in a bowl, and we can't wait to hear how you customize it!
Related
Before You Go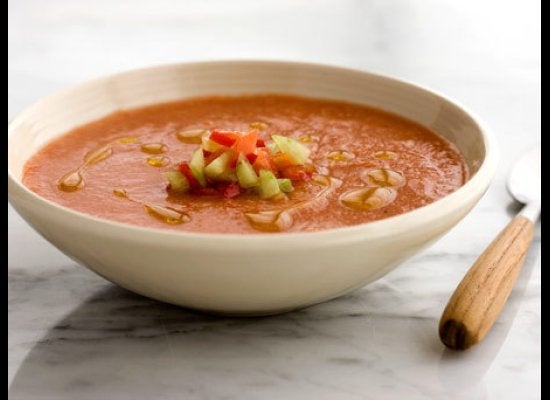 Gazpacho Recipes