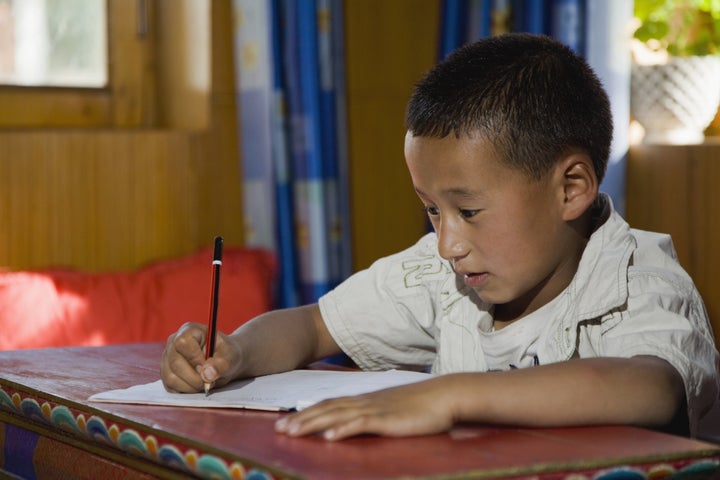 As far as ethnic stereotypes go, it's easy to write off the Asian-American "model minority" myth -- the idea that members of the ethnic group are universally high achievers -- as a lesser evil. After all, what's so bad about people assuming you'll be successful?
A lot of things, it turns out.
The myth erases Asian histories of oppression and flattens diverse Asian groups into one identity, among many other outcomes. It also ignores the Asian-American groups who have some of the highest dropout rates nationwide and are more likely to live in poverty and need language assistance.
The White House has taken it upon itself to dispel the model minority myth for good. Last week, the Department of Education announced a "AAPI Data Disaggregation Initiative" to determine the real academic struggles of Asian American and Pacific Islander (AAPI) students in public school.
Secretary of Education John King announced the initiative in a video message last Wednesday. The initiative will give states $1 million in grants to collect accurate data on AAPI student performance. The announcement coincides with AAPI Heritage Month, which is in May.
"There is an urgent need to address the daily challenges that AAPI's face, which are also as diverse as their communities," King said in the video.
King specifically called out the model minority myth, which he described as "the notion that all AAPIs have access to a quality education and are affluent, which has prevented AAPI communities from fully benefiting from federal programs and resources that can support vulnerable and underserved people."
Although AAPI fall under a single census category, "Asian," they comprise over 50 ethnic groups. Immigrants from India, China and Korea, who largely came to America after the 1965 Immigration Act, tend to have professional degrees and white-collar occupations -- because those were the only kinds of people who were granted visas. Considering the fact that just China and India have a population of over 2 billion, it's easy to see how their diaspora in the U.S. may be unrepresentative, socioeconomically.
Plus, many smaller Asian groups, like the Vietnamese, Laotian, Hmong and Tongans, tend to fall on the other end of the "achievement" spectrum. These students have some of the highest dropout rates in America and are more likely to need economic assistance. But since they fall under the umbrella of the "model AAPI," they are much less likely to get the help they need.
King called this an "opportunity gap" within AAPI populations. He stressed the importance of getting data on "subpopulations," or distinct ethnic groups within the broad AAPI designation.
"AAPI have been talking about the dangers of the model minority myth for years ... but it too often been an echo chamber within our own community," Karin Wang, of the advocacy group Asian-Americans Advancing Justice, told HuffPost. "It is a game changer to have the White House take such a strong stand against the 'model minority' idea."
The idea to get better data on AAPI students is not new. In July 2015, Hawaii Sen. Mazie Hirono called on all school districts with more than 1,000 AAPI students to report data on ethnic subgroups. In October 2015, California Gov. Jerry Brown vetoed a bill that would require the state's public universities to disaggregate AAPI student data. While both those measures failed, the new grant-making initiative, less than a year later, seems like a big step forward.
The program is part of the White House Initiative on Asian Americans and Pacific Islanders, which President Barack Obama re-established in 2009. According to a program brief on the Education Department website, the grants range from $100,000 to $400,000, so there will likely be between three and 10 schools participating in the initiative.
Public schools are a great place to start tackling the model minority myth, said Wang, because "education is a unifying issue for many AAPIs." She added, "If we work collectively, Asian Americans and Pacific Islanders could chart a new course in reforming our nation's educational system and helping to close achievement gaps."
Related
Popular in the Community