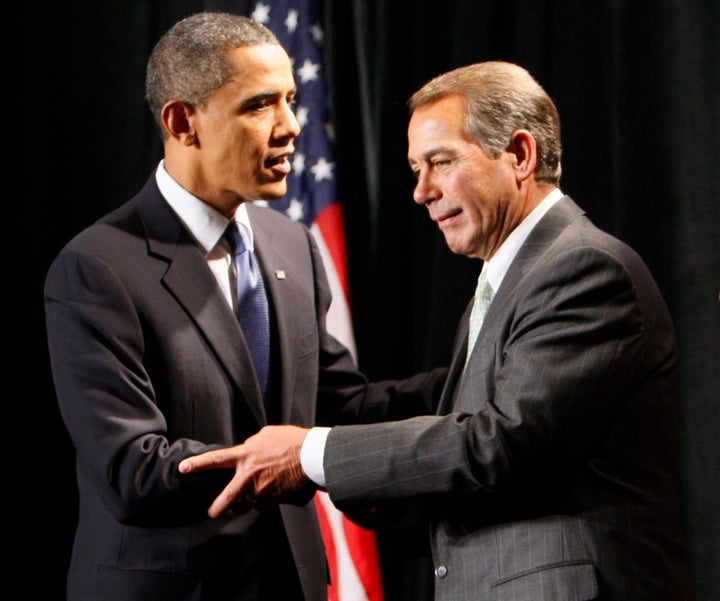 UPDATE: 4:25 p.m. -- The House passed the short-term funding bill 335 to 91, with 104 Democrats joining with Republicans to vote for passage. Six Republicans voted against the two-week bill, including Rep. Steve King of Iowa. King tweeted that he opposed the bill because it did not include some of the riders Republicans added to the seven-month continuing resolution passed two weeks ago, which would have defunded health care reform and blocked funding for Planned Parenthood.
The bill will now move to the Senate, where Senate Majority Leader Harry Reid (D-Nev.) said he would bring it for a vote within the next 48 hours.
UPDATE: 3:00 p.m. -- Senate Democrats will agree to House Republicans' two-week extension of government funding, Reid told reporters on Tuesday, passing over a White House request for a monthlong stopgap funding bill.
Reid said Senate Democrats were prepared to pass the two-week bill, which would cut about $4 billion from current spending levels. The move virtually ensures the government will avoid shutdown at the end of the week, when the current funding bill expires. Senate Minority Leader Mitch McConnell (R-Ky.) said his conference would also support the bill.
"I believe all of my folks think that's a good idea and I think a significant number of Democrats feel the same way," McConnell said.
WASHINGTON -- Just as quickly as Congress appeared to be settling on a stopgap funding measure to keep the government running past the March 4 deadline, differences have erupted between House Republicans and the White House.
On Monday, the Obama administration finally entered the debate over a short-term continuing resolution, alerting lawmakers that while the administration appreciated a two-week measure that would include $4 billion in spending cuts, a month-long extension would be preferable.
White House Press Secretary Jay Carney hinted at the reasoning during an early morning briefing where he talked about the economic uncertainty that could arise by funding the government in two-week aliquots.
An administration official, speaking about internal thinking on the condition of anonymity, added that the president and his team were also concerned that two additional weeks would not be long enough for lawmakers to resolve their differences over a long-term CR to fund the government through rest of the fiscal year. Acknowledging that a long-term CR would also, ultimately, cut programs that the White House viewed as valuable, the official added that the president was inclined to protect those programs a bit longer (in this case, two more weeks) if he could.
And yet, a 30-day stopgap, which Senate Democrats have long argued is the ideal length of a short-term CR, remains skeptically regarded among House Republicans. Speaker John Boehner (R-Ohio), speaking to reporters at a press conference at the Republican National Committee scoffed at the idea, though did not reject it outright.
"If ands and buts were candies and nuts then we'd all have a merry Christmas," said the Ohio Republican. "If there had been a conversation about this 10 days ago, or even two days ago, then we might have had something to talk about. But the fact is that we were forced to move on our own. I think we're taking a responsible path forward to keep the government open and to meet our commitment to cut spending."
The House is set to vote on the two-week CR and there is no indication that those plans have changed. Boehner and Senate Majority Leader Harry Reid (D-Nev.) met on Monday night to discuss switching to a 30-day variation, which would simply extend the $4 billion in cuts to $8 billion. By Tuesday morning, neither office was showing its hand, though a House GOP aide, privy to the talks, relayed that if Republicans were to agree to a longer stopgap, they would demand even more cuts in return.
"I expect that we'd need more cuts if they want to double the length," the aide said. "In addition, we still plan to pass two weeks and $4 billion today -- I don't know that there's really time to do much else at this point."
UPDATE: Senator Chuck Schumer's spokesman Brian Fallon emails over the following comment, suggesting that Democrats aren't quite comfortable accepting a two-week CR.
Republicans have moved away from extreme cuts to border security and cancer research, and adopted some of the spending cuts that we have already put on the table. But we cannot keep settling for two-week stopgaps. We need to negotiate a long-term solution.
FURTHER UPDATE: White House Press Secretary Jay Carney said at Tuesday's briefing that the President and Speaker Boehner had a "productive and useful conversation" that day concerning their difference over the length of a stopgap CR.
"I see no reason and I don't believe we see any reason why we cannot engage as we have been... in this process going forward," Carney added. "We have made clear that we can accept, even over a relatively short period of time, $8 billion in cuts that we can agree on. I think that is a substantial number and demonstrates [the president's] commitment to the need to tighten our belts, as long as we protect essential functions of government, national security, and don't do anything that would hurt our ability to grow or create jobs."
Ryan Grim contributed reporting.

Popular in the Community