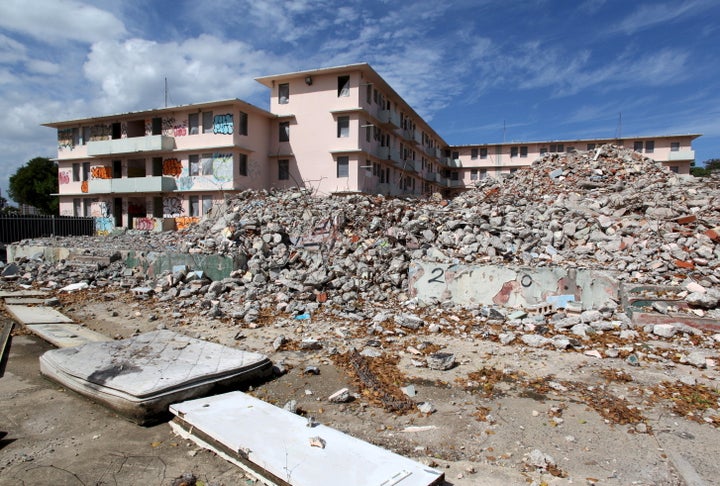 The White House on Wednesday unveiled a sweeping plan to address the Puerto Rican debt crisis, proposing bankruptcy relief that would extend beyond the current proposal in Congress.
But the plan requires action from Congress, where legislation to allow bankruptcy relief for Puerto Rican municipalities and state corporations has stalled, leaving doubts that the plan will move forward quickly.
"Puerto Rico, and the 3.5 million American citizens who call the island home, are facing a serious crisis that requires immediate congressional action," Treasury Secretary Jacob Lew, National Economic Council Director Jeff Zients, and Health and Human Services Secretary Sylvia Mathews Burwell said in a joint statement.
Legislation that would allow Puerto Rican municipal governments and state corporations to declare bankruptcy and rework their debts has languished before Congress all year, despite enjoying support from the two largest political parties on the island. Such bankruptcy relief -- often referred to as "Chapter 9," after its section in the tax code -- is available to all 50 U.S. states, but not Puerto Rico.
Some members of Congress have avoided the issue, likening bankruptcy relief to a government bailout, despite the fact that reorganizing the debt doesn't imply a cost to taxpayers unless they personally hold Puerto Rican bonds.
Speaking at an event at Columbia University in New York unrelated to the White House announcement on Wednesday, Nobel Prize-winning economist Joseph Stiglitz said legislation to restructure debt doesn't face strong opposition in Congress. Nevertheless, the bill has failed to gain traction because it's not a priority for most members in a Congress that has struggled to move legislation forward efficiently or build consensus.
"You have to have a bankruptcy law," Stiglitz said. "You can't manage a national economy without a bankruptcy law."
Whatever the reason for the inaction, the White House urged Congress on Wednesday to go even further by extending bankruptcy relief to the commonwealth government as well. U.S. state governments are ineligible for such relief, and the Obama administration says the measure should only apply to U.S. territories.
The White House proposal would also mandate congressional oversight of Puerto Rico's finances to ensure transparency, expand Medicaid and extend the Earned Income Tax Credit and Child Tax Credit to the island's residents.
Puerto Rican Gov. Alejandro García Padilla met with Lew prior to the White House announcement and is slated to speak before Congress on Thursday. He planned to tell Congress that the island would soon reach insolvency.
"The bottom-line is that Puerto Rico faces a $28 billion funding gap over the next five years, and serious action must be taken both by the government of Puerto Rico and the U.S. government to close that gap," García Padilla's prepared remarks read.
Puerto Rico's lone, nonvoting member of Congress, Resident Commissioner Pedro Pierluisi -- a statehood supporter from the opposition New Progressive Party -- issued a statement in support of the Obama administration's proposal.
"I welcome this initiative by the Administration, and I am confident that it will inform the ongoing conversation in Congress about a possible legislative package to empower Puerto Rico by treating it more equitably under federal laws," Pierluisi said. 
The Puerto Rican economy has contracted for most of the last decade, and last year a record-level 84,000 people abandoned the island, according to the White House. The island's government continued to issue bond debt in order to cover expenses, even after they were downgraded to junk status, carrying interest rates nearing 9 percent.
As an American territory obliged to use the U.S. dollar, Puerto Rico cannot declare bankruptcy unless Congress changes the law, nor can it use monetary policy to devalue its currency to spur exports, as some independent countries have done when confronted with a debt crisis.
REAL LIFE. REAL NEWS. REAL VOICES.
Help us tell more of the stories that matter from voices that too often remain unheard.