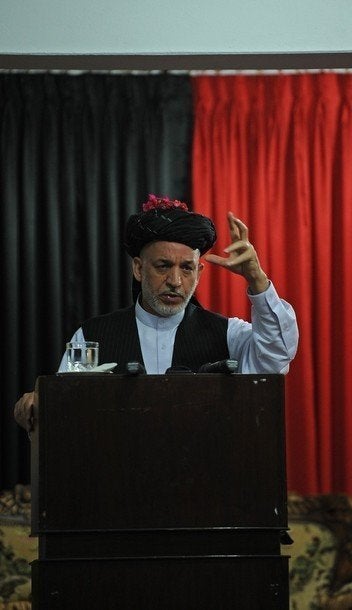 A dramatic New York Times report detailing doubts among Afghan leadership that U.S. forces can beat back the Taliban had its credibility attacked on Sunday by two high-ranking officials in the Obama White House.
The story published on Friday raised serious concerns about the efficacy of the U.S. military mission in Afghanistan, quoting former aides to president Hamid Karzai saying the president "had lost faith in the Americans and NATO to prevail" in that theater.
Hours after its publication, however, the U.S. Ambassador to the United Nations, Susan Rice, was calling the information inaccurate "if not fallacious."
"We don't have any basis for seeing it as the New York Times portrays it," Rice said on "Fox News Sunday." "We have every confidence that the U.S. and NATO, working with our Afghan partners, will defeat the Taliban. Hamid Karzai remains an important partner in the Afghan government."
Rice's rebuke of the Times was notably tough-worded and suggested that the White House is very sensitive to the delicate situation in Afghanistan and fraying relations between Afghan leadership and U.S. officials. Another top White House aide -- David Axelrod -- was even more direct than Rice in his critique of the piece, arguing that the reporters had relied on a biased source for their information.
"As to this issue, understand that Mr. Saleh [formerly director of the Afghan intelligence service] was fired by president Karzai so that may help color some of his interpretations," said Axelrod. "And Mr. Karzai rejected his interpretation of this, at the end of the day, however we have always said the future of Afghanistan will involve a political solutions, just as it did in Iraq, and ultimately if the Taliban is wiling to lay down arms... that would be part of the solution. Meanwhile we are putting pressure on them everyday."
Questions over whether U.S. forces could fully and sufficiently quell the insurgency in Afghanistan have existed well before this weekend. Karzai himself spurred discussion on the topic when he flirted with actually switching allegiances to the Taliban. The Times report, however, brought the concerns to a more dire level -- in which close Karzai aides, and Karzai himself, where resigned to the hopelessness of it all.
Domestically, the report has spurred more debate about how strategically smart it is to have a deadline for U.S. troops to leave Afghanistan. But Axelrod insisted that the president would not scrap his deadline, nor would he remove troops immediately.
"We can't make an open-ended commitment that the Afghan government and the Afghan people have to take responsibility themselves," he said. "Their economy, their security and their civil institutions have to take responsibility. He is committed to begin that process of withdrawal in July of next year and that continues to be the plan and we will pursue that on that schedule."

Calling all HuffPost superfans!
Sign up for membership to become a founding member and help shape HuffPost's next chapter