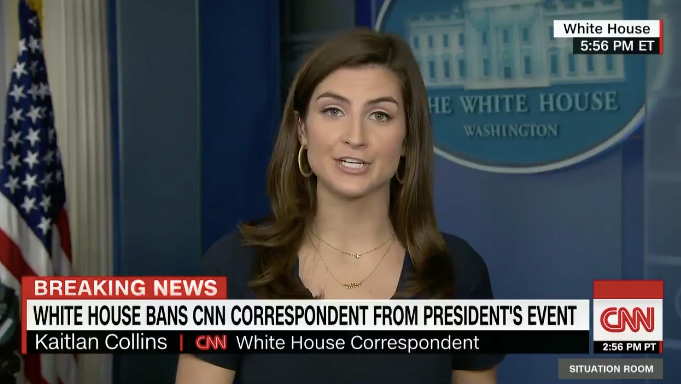 Now, journalists across a wide range of news organizations ― including Fox News President Jay Wallace ― are jumping to Collins' defense and speaking out against the White House's actions.
Collins was serving as the network pool reporter, representing all of the major news networks, for an event with European Commission President Jean-Claude Juncker on Wednesday. At the end of it, she and other reporters asked Trump a few questions ― as is common for journalists who attend such gatherings. (Trump sometimes answers questions in these situations; other times, he chooses not to.)
According to CNN, Collins asked Trump questions about Michael Cohen, his former attorney who is under federal investigation and whose secret recording of Trump was recently released. She also asked about Russian President Vladimir Putin, whom the Trump administration planned to invite to Washington. D.C., this fall before pushing back the meeting.
Other journalists at the event, including HuffPost's Ryan Reilly, also asked the president about Cohen's tapes multiple times as staffers ushered them out of the office.
After the press event, the White House announced that Trump and Juncker would be available to talk to the press at another event in the Rose Garden. As reporters waited to go to that event, White House aide Hogan Gidley approached the press pool and asked where Collins was. He left reporters with the impression that they had important information to provide her.
Collins later said she was called to White House deputy chief of staff Bill Shine's office, where Shine and White House press secretary Sarah Huckabee Sanders disinvited her from the next press event.
CNN said in a statement that Shine and Huckabee Sanders told Collins her questions were "inappropriate."
"They were not," CNN's statement read. "Just because the White House is uncomfortable with a question regarding the news of the day doesn't mean the question isn't relevant and shouldn't be asked."
"This decision to bar a member of the press is retaliatory in nature and not indicative of an open and free press," the statement continued. "We demand better."
Wallace, the president of Fox News, swiftly offered his support to CNN in a statement issued after the incident.
"We stand in strong solidarity with CNN for the right to full access for our journalists as part of a free and unfettered press," Wallace said.
Huckabee Sanders said in a statement later on Wednesday that Collins was banned from the later event because she shouted and refused to leave the Oval Office.
"To be clear, we support a free press and ask that everyone be respectful of the presidency and guests at the White House," the press secretary said.
However, other reporters who were in the Oval Office at the time said that Collins acted appropriately during the press event and exited with everyone else.
CBS News' Steven Portnoy, who was serving as the radio network pool reporter for the day, said Collins "was no less willing to leave" the office than "any other member of the larger-than-usual press contingent."
"As is typical, [Collins] began asking questions after the president finished his remarks. So did I, and many other reporters," Portnoy tweeted. "The large scrum was eventually coaxed from the room by the press 'wranglers' who escort us in and out."
Bloomberg reporter Toluse Olorunnipa, who was also at the event, accused Huckabee Sanders of lying about Collins' behavior.
"I was there," Olorunnipa tweeted. "I saw reporters doing their jobs and asking questions of the president, then leaving w/o incident."
Similarly, Associated Press chief photographer Evan Vucci, also at the event, vouched for Collins and said that the type of questioning he saw on Wednesday was not unlike other photo ops he's covered.
"I've covered these photo ops for almost 15 years and [Collins] didn't do anything that hundred of other great reporters did in that same room," he tweeted.
The White House did not immediately respond to HuffPost's request for comment on these accounts of that event.
The White House has maintained a contentious relationship with the news media over the course of Trump's presidency, and Huckabee Sanders has often sparred with reporters during press briefings.
But Wednesday's ban on Collins struck a new chord with political journalists, and many called it an attack on the free press.
"This type of retaliation is wholly inappropriate, wrong-headed, and weak. It cannot stand," White House Correspondents' Association President Oliver Knox said in a statement. "Reporters asking questions of powerful government officials, up to and including the President, helps hold those people accountable."
Other journalists have joined the chorus against the White House's treatment of Collins, including Washington Post White House Bureau Chief Philip Rucker, Fox News' Bret Baier, CNN's Jake Tapper and One America News Network White House correspondent Trey Yingst:
Support HuffPost
The Stakes Have Never Been Higher
Popular in the Community