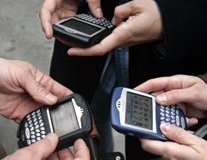 In a bizarre occurrence, White House staffers apparently had their blackberries stolen by an aide to the Mexican president during a summit in New Orleans. The Chicago Tribune reports:
"There was an incident in New Orleans, at the leader's summit, where a (summit) staff member... was involved in the disappearance of a couple of BlackBerries,'' Dana Perino, the White House press secretary, said today. "The matter is under investigation.''

Perino's Berry was not among the purloined wireless cache. She wasn't sure if White House staffers had been hit, but certainly members of the U.S. delegation were.

"They were certainly U.S. delegation,'' Perino said.
Fox News identifies the thief as the lead press coordinator for the Mexican delegation. When caught on camera by the Secret Service the man said it was a mistake, then claimed diplomatic immunity, and then hopped on a plane back to Mexico.
Support HuffPost
The Stakes Have Never Been Higher
Popular in the Community