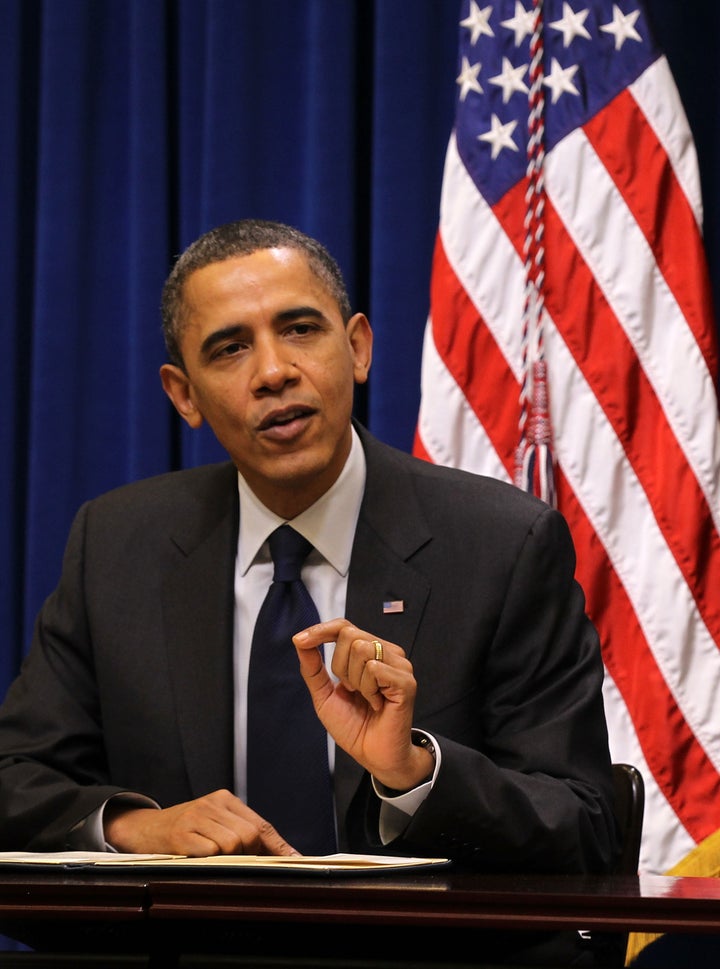 WASHINGTON -- Minutes before lawmakers and Vice President Joseph Biden met to discuss a funding measure to keep the government operational through the fiscal year, the Obama administration offered the first formal compromise.
Briefing reporters at the White House while negotiators made their way to the VP's office on the Hill, top administration officials said they had agreed to cut another $6 billion from the measure (and would be willing to go even further) in an attempt to bridge the party divide.
We have made it "clear that we can meet them halfway," said top economic adviser Gene Sperling at an off-camera briefing for reporters, "[W]e have made it clear we are committed to doing that and we are willing to cut further if we can find common ground on the budget with reducing spending in the right way while protecting our investments in education, innovation and research."
With respect to what programs would be on the chopping block, Sperling would only say, "stay tuned." Whether Republicans would agree with the administration's math also remained a mystery.
While Sperling and Communications Director Dan Pfeiffer insisted the $6 billion in additional cuts would be the equivalent of meeting Republicans halfway, top GOP officials argued otherwise.
The continuing resolution House Republicans passed in February included $100 billion in cuts when compared to the FY 2011 White House budget proposal -- a proposal that ultimately didn't pass. The White House insists its budget suggestion should be judged on that frame.
As such, the president and Senate Democrats have already offered a continuing resolution that comes in at roughly $40 billion below those levels. Adding on the $4 billion in reductions lawmakers passed in order to keep the government running for two weeks following March 4th (when funds were initially set to run out) and the $6 billion in cuts Sperling and Pfeiffer unveiled on Thursday equals $50 billion total -- exactly half of the $100 billion passed by Republicans.
As of several days ago, this math might have worked with the GOP. But as negotiations have entered a new stage, so to has the context. Republicans now insist negotiations instead should be based off current spending levels, not those in Obama's 2011 budget proposal. With that as a baseline, their CR offers roughly $60 billion in cuts. The president, in turn, offers just $10 billion (the $4 billion passed already plus the $6 billion suggested on Thursday).
"I understand that people maybe want to change the math, now," said Pfeiffer, arguing that it would be irresponsible for the media to base the current proposals off anything other than FY 2011 suggestions. "What is clear is no matter what math they use, Republicans won't get everything they want and Democrats won't get everything they want."
One thing Republicans might not get are the host of riders that attached to their continuing resolution, including language that would cut off, among other things, funds for Planned Parenthood.
"We think the focus should be on how to cut spending in a way that is smart for the economy," said Sperling, "and that no one should get that core mission derailed by focusing on any political or ideological [cause]."
On the Hill, the talk was even tougher. Several female Democrats took to the floor on Thursday to denounce the Republican proposal as demonstrably unfair towards women. Aides, meanwhile, insisted no deal would be reached if House GOP leadership didn't drop some of the more draconian cuts and riders.
"Our side believes that any measure that keeps the government running should be clean of extraneous legislating," said on top Democratic aide.
All of which portends difficult negotiations in the weeks ahead. Government funds currently run out on March 18 and the administration has vehemently insisted that it does not want another two-week stopgap to keep talks ongoing

Calling all HuffPost superfans!
Sign up for membership to become a founding member and help shape HuffPost's next chapter