On a recent Thursday, U.S. Marine Lance Corporal James Poggi visited Edward Hines, Jr. VA Hospital on the western edge of Chicago with his wife Stefanie and their young son for one of his regular physical therapy sessions. James is learning to walk again after having his left foot surgically amputated – a necessary procedure to aid his recovery from an injury sustained during a 2010 tour of duty in Afghanistan.
In addition to VA benefits and Social Security Disability Insurance, the Poggi family receives $372 per month in Supplemental Nutrition Assistance Program (SNAP) benefits on their LINK card, which helps buy some, but not all, of the groceries needed for a family of four. The Hines VA food pantry, operated in partnership with the Greater Chicago Food Depository and AmeriCorps with volunteers from the Red Cross, helps fill the gap at the end of most months. The family also utilizes the federal Low-Income Home Energy Assistance Program (LIHEAP) to help pay their gas and electric bills. Together, these lifelines keep James, Stefanie and their two children healthy, warm and fed as he focuses on recovery and physical therapy.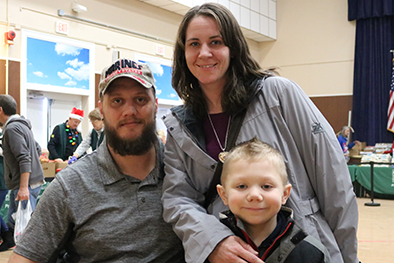 On Tuesday, the White House released its FY 2018 budget proposal, which calls to reduce SNAP by more than $193 billion over 10 years while cutting $27 million from The Emergency Food Assistance Program (TEFAP) next year. While we realize this is the first step in a lengthy budget process, these recommendations set a tone that things could get much worse for families at risk of hunger.
The proposed cuts to SNAP would come largely from shifting a significant portion of benefit costs to the states. Considering the grim reality of Illinois' budget, this is an unrealistic demand that would likely result in the state being forced to limit eligibility or reduce benefits for all SNAP recipients.
The White House's budget also suggests applying additional time limits and work requirements on able-bodied adults without dependents who receive SNAP benefits. While this is framed as an incentive for unemployed SNAP recipients to rejoin the workforce, our experience tells us that such rules would effectively take benefits away from struggling households with no regard for the availability of jobs in their community.
The circumstances that brought James Poggi and his family to need food assistance are unique. But, they are not alone in their struggle to put food on the table. Each year, more than 812,000 of our neighbors turn to the Food Depository's local network of 700 food pantries, soup kitchens, shelters and programs. More often than not, a person facing hunger in our community is either working, living with a disability, a child or a senior.
The White House budget goes further, proposing to eliminate several vital programs, such as LIHEAP energy assistance, that keep millions of Americans like the Poggi family from going hungry by providing assistance for basic services. Without LIHEAP, more struggling households would be forced to choose between buying food and keeping their heat on in the winter.
Another program targeted for elimination is the Corporation for National and Community Service, which includes AmeriCorps, VISTA, Senior Volunteer Corps and the Social Innovation Fund. In Illinois, more than 13,000 people are serving at nonprofits and strengthening their communities through these programs, including the AmeriCorps members who staff the weekly veterans food pantries at Hines VA and Jesse Brown VA Medical Center.
At a time when 42 million Americans are at risk of hunger, a strong and coordinated public-private response is the only way to meet the need. Private charities, including the 200 food banks in the Feeding America national network, are striving to do more for our most vulnerable neighbors. We ask that our leaders in Washington, D.C. do the same, and find opportunities to strengthen, not dismantle, programs that help low-income families like James and Stefanie Poggi keep food on their tables.
REAL LIFE. REAL NEWS. REAL VOICES.
Help us tell more of the stories that matter from voices that too often remain unheard.