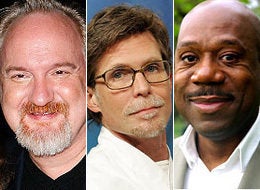 The New York Daily News reported on Sunday that three chefs are supposedly under consideration for the Obamas' White House chef. They are former Oprah chef Art Smith, authentic Mexican chef and food oracle Rick Bayless, and NBA star Carmelo Anthony's personal chef, Daniel Young.
I don't know if any of the three are seriously in contention for the job (the reporting was not exactly definitive), but if they are, I think Art Smith would be the odds-on favorite. In any case, the story got me thinking about who could or should get the job.
And this made us wonder: who is the White House chef now? His name is Walter S. Scheib III, and his story, according to the White House website, is as follows.
While attending the Culinary Institute of America, Walter gained valuable experience in the kitchens of the Capitol Hilton in Washington, DC. After graduation, the Capitol Hilton rapidly promoted him from Apprentice to Executive Chef. Following his departure from the Hilton in 1986, Chef Scheib took the position of Executive Chef at the Boca Raton Club and Resort and managed food preparation, service, and staff for the full service resort and hotel.

Walter moved from Florida to White Sulphur Springs, West Virginia in 1990 to become the Executive Chef at The Greenbriar, long one of this country's most prestigious grand hotels. However his tenure at The Greenbriar was short lived when in April 1994 he was selected to join the staff of the Executive Residence at the White House as Executive Chef.

As Executive Chef at the White House, Chef Scheib's duties include managing and preparing all menus and meals for the First Family and their private entertaining, as well as official and state function of the presidency. He is in charge of a full-time staff of five and oversees a part-time staff of 20.
Who do you think the White House chef should be?
**What will the Obamas be eating? See a video of the family making tuna salad and discussing their favorite foods.