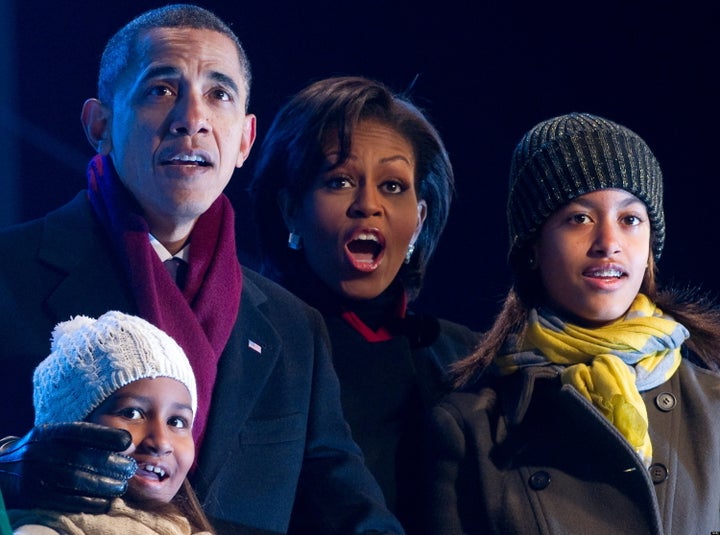 You're probably hoping that your holiday celebrations are free from any talk of politics this year, particularly after your conservative uncle downs a little too much of the spiked eggnog. But we're still six days from Christmas, so there's time for some light-hearted Christmas/politics commingling.
Greg Clugston, a radio correspondent for Salem Radio Network News, has been writing a poem for the White House Press Corps' basement Christmas party since 1998. The poem is always a play on Clement Clarke Moore's classic "A Visit from St. Nicholas."
This year, Media Bistro and USA Today got their hands on Clugston's verse (which you can read below), and it turns out the man has a little Shakespeare in him. His poetry is reportedly the annual hit of the party, along with -- this is true -- the Fox News Christmas ham.
Clugston is always topical. Last year's poem included a Christmas visit by the infamous White House party crashers, the Salahis:
She was dressed all in red and arrived with her mate,
Crashing the dinner, coming right through the gate,
The couple mingled with guests in their tuxes and gowns,
For an uninvited night out on the town.
This year's poem addresses the President's struggles with health care legislation and the midterm elections, and pokes fun at Robert Gibbs, Joe Biden and Michelle Obama. And try not to shed a tear when John Boehner raises a ruckus on the White House lawn, calling out the names of his Republican reindeer. The role of Vixen is played by Michelle Bachmann (was that intentional?). Santa Clause is played by jolly old Bill Clinton.
'Twas the night before Christmas and in the White House,
Not a creature was stirring, not even a mouse.
The stockings were hung by the chimney with care,
In hopes that St. Nicholas soon would be there.
The girls dreamed of sugar, so sweet and so grand,
And other nice treats that the First Lady banned.
The president was asleep -- all snug in his bed,
Even though mid-terms still filled him with dread.
Biden called health care a 'big [freakin'] deal,'
But voters revolted and let out a squeal.
They rejected the Dems and the president's pitch:
'Sipping Slurpees' and 'driving into the ditch.'
And then there was Gibbs, with his media heft,
Ticking off members of the 'professional left.'
All of a sudden there arose such a clatter,
Obama sprang up to see what was the matter.
Out on the lawn stood someone he could not neglect;
It was Ohio's John Boehner -- the new Speaker-elect.
With a change in the House, things won't be the same --
And he turned to his colleagues and called them by name:
'Now Cantor! Now Pence! Now McCarthy and Bachmann!
On, Issa! On, King! On, Ryan and Barton!
'To the top of committees, we'll govern with flair!
We must lower taxes and repeal health care!'
Then, in a flash, a jolly man did appear;
His arrival had the glamour of a movie premiere.
His eyes -- how they twinkled! His dimples how merry!
His cheeks were like roses, his nose like a cherry!
He was chubby and plump, and seemed rarin' to go.
The hair on his head was as white as the snow.
This man was invited -- Bill Clinton was he!
His help to Obama made 'must-see' TV.
With tax cuts on the line, POTUS was put to the test,
So he reached out to Bill, who's simply the best.
Biting his lip and stroking his chin,
Clinton explained how Obama could win.
With Bubba in charge -- the press under his spell --
POTUS was free to party with Michelle.
And I heard Bill exclaim, as he sent Obama packing:
'Merry Christmas to all! Let's stop the shellacking!'
That's pretty good, no? And if your conservative uncle does get a little frisky with the whisky, remember that things could be worse. In 2006 Clugston concluded his poem with "Santa" George W. Bush intoning the lines:
"Merry Christmas to all! I'm the decider!"