Hope Hicks, who has served as interim White House communications director since Anthony Scaramucci was abruptly ousted from the position in July, will remain in the job on a permanent basis, CNN, NBC and Bloomberg report. Hicks is the third person to hold the post since President Donald Trump's inauguration in January.
Hicks, 28, is regarded as one of the president's most trusted advisers. According to a Politico profile published in July, Hicks is known internally at the White House as a "Trump whisperer" and is "sometimes treated like an extended family member of the close-knit clan."
Hicks has remained somewhat of an enigma in Washington politics due to her low public profile. Prior to joining Trump's 2016 campaign, she worked in public relations and fashion. She joined the Trump Organization in 2014 to work on Ivanka Trump's clothing line, where she became close to Ivanka and later Trump himself. She was tapped early in 2015 to join Trump's campaign, serving as his press secretary. After Trump's inauguration, she was named the president's director of strategic communications.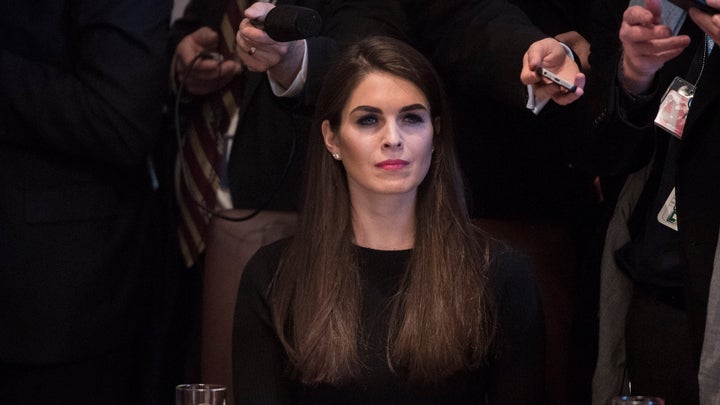 Hicks' new appointment follows repeated shake-ups to the communications office and White House staff. In July, former Wall Street financier and frequent cable news guest Scaramucci was appointed to replace Mike Dubke, who resigned in May. Dubke, who was on the job for just three months, said his reasons for leaving were "personal."
Scaramucci's appointment immediately led to the departure of another high-profile staffer, press secretary Sean Spicer. Spicer reportedly vehemently opposed Scaramucci's hiring, voicing concern that he would cause further uncertainty in a White House already rife with chaos.
Scaramucci immediately set out to crack down on administration officials leaking to the press, vowing to fire "everybody" in the communications shop if unauthorized disclosures didn't stop. Shortly after that pronouncement, he told Politico he planned to fire assistant press secretary Michael Short, who quit before Scaramucci could make good on the threat.
"Mr. Scaramucci felt it was best to give Chief of Staff John Kelly a clean slate and the ability to build his own team," White House press secretary Sarah Huckabee Sanders said in a statement after Scaramucci's departure. "We wish him all the best."
This article has been updated with more details about Hicks.