WASHINGTON -- White House press secretary Josh Earnest laid into House Republicans on Thursday for fumbling passage of an annual spending bill by linking it to a debate over protecting the Confederate flag.
Earnest kicked off his briefing with a statement about the ordeal, which began late Wednesday night when Rep. Ken Calvert (R-Calif.) attached an amendment to the 2016 Interior and Environment appropriations bill to allow the Confederate flag to be displayed in national cemeteries. The move infuriated Democrats and ultimately led to House Speaker John Boehner (R-Ohio) pulling down the whole bill Thursday. Boehner noted that he's personally opposed to displaying the flag on federal grounds, but wants both sides to talk it out.
"Right now, the Interior appropriations bill in the House is jammed up because a sizable number of House Republicans are eager to protect the status of the Confederate flag on National Park Service grounds," said Earnest.
"These are the same House Republicans who voted for a party leader who once described himself as 'David Duke without the baggage," he said, referring to House Majority Whip Steve Scalise (R-La.), and then taking a shot at Donald Trump's recent offensive remarks about immigrants. "These are the same congressional Republicans who have declined to criticize the race-baiting rhetoric of a leading Republican presidential candidate."
"So when you hear me say that congressional Republicans have an agenda that is out of step with the vast majority of Americans, this record, at least in part, is what I'm referring to," said Earnest.
The Capitol Hill debacle comes on the same day that South Carolina Gov. Nikki Haley (R) is signing a law to remove the Confederate flag from the grounds of her state's Capitol. Her action comes after nine people were murdered inside Emanuel African Methodist Episcopal Church in Charleston by a racially motivated individual last month. The suspected killer had previously posted pictures of himself online posing with the Confederate flag.
Earnest stopped short Thursday of saying the GOP has a problem with race. He said, instead, that people can judge lawmakers for themselves by the positions they advocate on the floor of the House.
"I think it's notable that Speaker Boehner is having some difficulty in persuading the other members of his conference of his view," said the White House spokesman. "I think that's something that the American people themselves will consider as they evaluate the agenda that's been advanced by Republicans in Congress."
Boehner spokesman Cory Fritz pushed back on Earnest's characterization of Republicans on the issue. He said Calvert's amendment was "entirely consistent" with the Obama administration's policy that bans the sale and display of the Confederate flag on National Park Service properties -- except when it is in a historical or educational context.
"Distorting fact to try and score cheap political points is no way to honor the victims of the horrific crime in Charleston," said Fritz. "These childish attacks are completely dishonest, and beneath the dignity of the office of the presidency."
Before You Go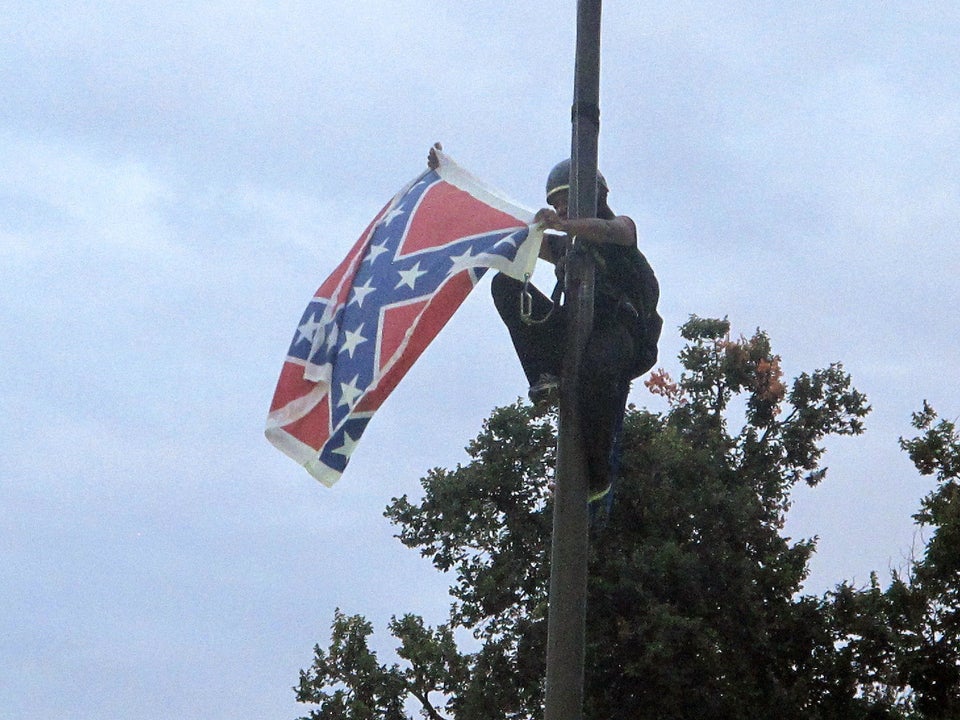 Confederate Flag
Popular in the Community