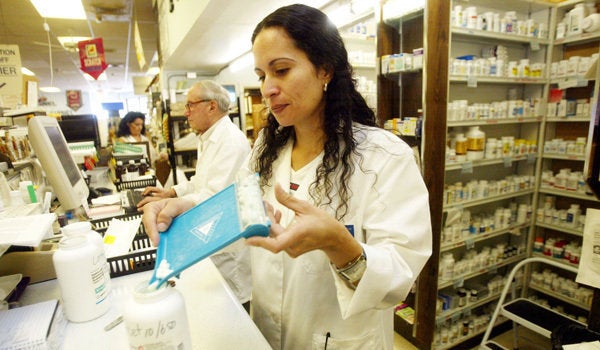 In closed-door negotiations with President Obama and his top aides throughout the spring, Big Pharma offered its support for comprehensive health care reform and pledged to cut $80 billion in costs over the next ten years. Just exactly what Obama promised in return wasn't made public and was the subject of intense debate on Capitol Hill Thursday, as senators wondered aloud if the White House had tied their legislative hands.
Earlier in the week, there were reports that Obama had promised to oppose any congressional attempt to exact further money from the massive pharmaceutical industry, which would include allowing Medicare to negotiate for lower prices or import cheaper drugs from Canada -- two major priorities for congressional Democrats.
In a Thursday meeting with Senate Democrats, some of those present thought the White House backed off that deal. The administration has now stepped in to clear up its position: Congress can vote to do those things -- just not as part of the health-care overhaul legislation.
The White House said on Friday that drug price negotiations did not specifically come up in talks with Big Pharma. Because such negotiations would take the deal past $80 billion, however, they're off limits, as is reimportation of cheaper drugs from Canada.
White House spokesman Reid Cherlin confirmed that despite Thursday's uncertainty the deal outlined in the New York Times still stands.
Of course, as the White House acknowledges, senators are free to push for drug-price negotiations or reimportation, but they may have to do so without administration support and, certainly, in the face of Big Pharma opposition.
Several senators, including Sherrod Brown (D-Ohio) and Bernie Sanders (I-Vt.), pledged to go after PhRMA no matter what the White House said.
Ken Johnson, PhRMA's senior vice president, told the Huffington Post the drug lobby has been in touch with the White House the last few days but that he couldn't talk about the specifics of the deal. "It's been a trying 48 hours," he said.
He did, though, talk about PhRMA's principal goal of the negotiations that led to the deal. "We made it very clear - and again, I'm not talking about the agreement - but we made it very clear that with respect to health care reform, the line in the sand for us was price control," Johnson said.
The deal only applies to the health care reform bill itself, meaning the White House could back Senate Democratic attempts to push for more savings from drug makers in separate, future legislative attempts, a White House aide said.
The truce over, the two parties will then battle it out. "The only thing I can say is we'll do what we always do. We'll roll up our sleeves and fight them one fight at a time," said Johnson.
For the White House, it's critical to keep the drug lobby either neutral or in its camp, given the muscle that the pharmaceutical industry is able to flex. PhRMA is watching the administration closely to make sure it sticks to its deal.
"I'm going to be as honest as I can be. I'm keeping my eye on the ball... We have made an $80 billion commitment toward improving patient care and we're sticking to it," said Johnson. "Obviously there have been some discussions [in the last few days]. But it's important for everyone to take a step back and a deep breath right now. All of these reports as to what's in the agreement and what's not detract from the more important goal of making sure every American has access to high quality and affordable health care and services."
As long as the drug makers and the White House are allies, PhRMA would rather not focus on the specifics of the deal. "Every day we spend talking about he-said/she-said is a day we lose talking about why health care reform is good for America," said Johnson. "We are doing everything we can to make certain comprehensive reform is enacted this year. We're on board."
This story was updated to reflect the fact that, according to the White House, drug price negotiations did not specifically come up in negotiations, but are ruled out because they would take the deal past $80 billion.
Popular in the Community