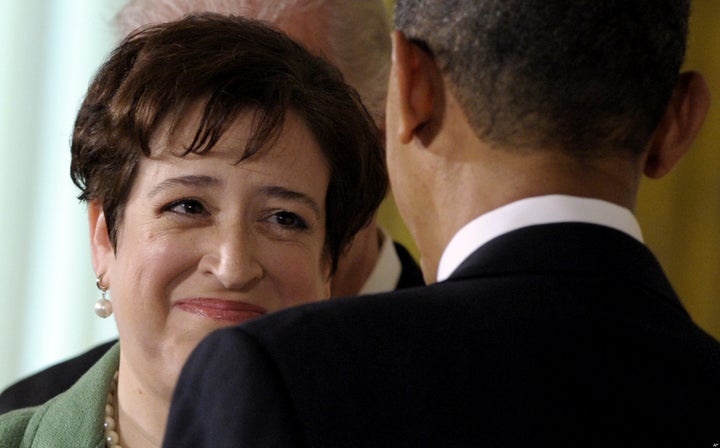 Administration officials are pushing back at criticism that Supreme Court nominee Elena Kagan lacks the requisite judicial experience to serve on the highest bench -- comparing her record to that of conservative stalwart William Rehnquist.
Asked about the line of attack on Tuesday morning, Vice President Joseph Biden replied that Kagan's judicial resume (or lack thereof) was "not a deal break, thank God."
"You have Justice Rehnquist, he never was a judge, he didn't do trial work," Biden added. "You had Justice [Robert] Jackson, Justice [Thurgood] Marshall, Justice Hugo Black. Thank God there are people other than just circuit court of appeals judges. I think it is a great asset she has."
From a historical perspective, of course, Biden is right to point out that it wasn't until recently that prior court experience mattered so much for a Supreme Court nominee. As the progressive Media Matters has pointed out, 40 of the nation's111 Supreme Court Justices never had judicial experience prior to their confirmation
Biden's reference to Rehnquist's resume is also a fairly valid political contrast -- one that Democrats have pushed privately. The former Chief Justice and Nixon appointee would be considered something of a novice by the standards some are applying to Kagan. Just glance at their respective post-law school careers:
KAGAN:
1986-87: Clerk for Judge Abner Mikva, U.S. Court of Appeals, D.C. Circuit
1987-88: Clerk for Justice Thurgood Marshall, U.S. Supreme Court
1989-91: Associate in Private Practice, Williams & Connolly
1991-97: Assistant Professor and Professor, University of Chicago Law School (1991-94 as assistant professor)
1995-96: Associate White House Counsel
1997-99: Deputy Assistant to the President, Domestic Policy Council
1999-01: Visiting Professor, Harvard Law School
2001-03: Professor, Harvard Law School
2003-09: Dean of Harvard Law School
2009-10: Solicitor General of the United States
REHNQUIST:
1952-1953: Clerk For Justice Robert Jackson
1953-1969: Private Practice in Phoenix, AZ
1969-1971: Assistant USAG, Office of Legal Counsel
That Rehnquist hadn't served in a political setting as opposed to a judgeship prior to his nomination was, at the time, considered an uncontroversial career path. Indeed, the recent trend of Judges being appointed to the Supreme Court was driven, in part, by the unwillingness of presidents to roll the dice with a more partisan appointee.
Asked, for an article last month, why so many appellate judges had been elevated to the bench, Professor David Yalof of the University of Connecticut (who has written extensively on Supreme Court politics) replied: "I think it becomes a safer play for other reasons. These people come pre-approved as judges. In cases they have been confirmed by the Senate. In the case of [John] Roberts, [Clarence] Thomas and [David] Souter, they had been confirmed by the U.S senate for a federal judiciary position within the previous two years."
Support HuffPost
The Stakes Have Never Been Higher
Popular in the Community