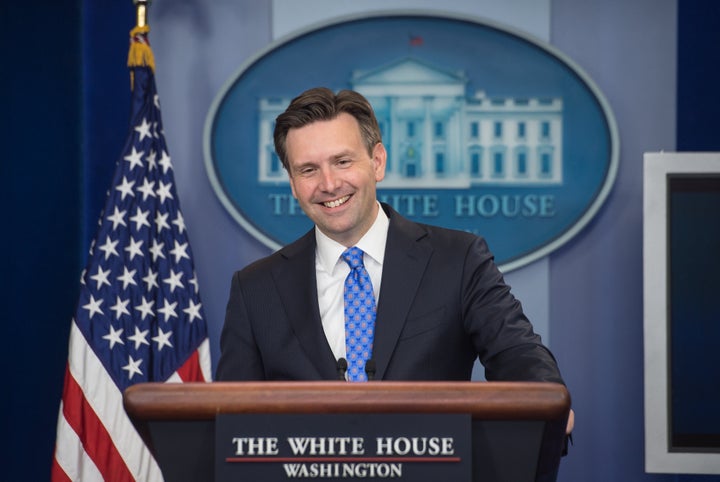 WASHINGTON -- The White House lifted the veil a tiny bit on its position regarding a decades-old ban on crude oil exports, saying Tuesday it would not back a GOP bill aimed at ending the embargo. 
The White House has remained cagey when discussing the ban -- first implemented during the 1970s Arab oil embargo -- simply saying the administration's policy has not changed despite taking action to gradually ease it where deemed appropriate.
House Republicans plan to vote on legislation this fall that would lift the ban, allowing the large-scale export of crude oil overseas.
Asked about the bill, White House press secretary Josh Earnest said the decision on whether the ban should be lifted should be left to the Commerce Department. 
"We've got a position on this, which is this is a policy decision made over at the Commerce Department, and for that reason we wouldn't support legislation like the one that has been put forward by Republicans," Earnest said Tuesday, threatening a veto by the president if it reaches Obama's desk. 
Earnest went on to prod Republicans, claiming they are too "cozy" with the oil industry. 
"It is pretty clear, once again, where Republicans in Congress and their political benefactors stand when it comes to their energy policy priorities," he said.
Earnest added that House Majority Leader Kevin McCarthy (R-Calif.) should instead use the opportunity he has to "demonstrate true political courage" and offer legislation that would "end billions in subsidies that oil and gas companies in the U.S. already enjoy." McCarthy spoke before an energy forum in Texas on Tuesday to preview the GOP's fall agenda. 
Last year, the Commerce Department lifted restrictions for certain U.S. companies, allowing them to export a type of ultralight oil known as condensate to foreign buyers, clearing the way for the first exports of unrefined oil in over four decades. The U.S. also exports crude oil to Canada, and recently announced a landmark decision to allow crude oil export swaps with Mexico.  
Calling all HuffPost superfans!
Sign up for membership to become a founding member and help shape HuffPost's next chapter