WASHINGTON ― Democrats on Capitol Hill said Tuesday they won't allow President Donald Trump to use undocumented young people as leverage to get support from the lawmakers for building a border wall, locking up more immigrants and cutting legal immigration.
Multiple top White House officials are urging Trump to attempt such a deal with Congress, according to a McClatchy news story. White House chief of staff John Kelly backs the idea, as do Trump's daughter, Ivanka Trump, and her husband Jared Kushner, according to the article.
It's being presented as a potential compromise that could bring relief to some 800,000 so-called Dreamers who could lose their protected status under the Deferred Action for Childhood Arrivals program (DACA) in the courts or by Trump's own hand. But Democratic leaders in both congressional chambers said it's not a proposal they would accept.
"This is a nonstarter," Senate Minority Whip Dick Durbin (D-Ill.) told HuffPost in a statement. Durbin is a lead advocate for legal status for young undocumented immigrants and a co-sponsor of the Dream Act to give them those protections, which the White House has said it would not back.
"The Dream Act is bipartisan" while the administration's immigration policy wishlist "sharply divides" even the GOP, Durbin said. So agreeing to trade Dreamer protections for that wishlist is "no kind of deal," he said.
Senate Minority Leader Chuck Schumer (D-N.Y.) tweeted that "Dreamers are not a bargaining chip for the border wall and inhumane deportation. Period."
House Speaker Nancy Pelosi (D-Calif.) similarly tweeted that it was "reprehensible to treat children as bargaining chips," and that "Dreamers are not negotiable."
Asked whether the plan could gain traction in the Senate and whether it is being discussed, a senior Democratic aide who requested anonymity said simply, "no and no."
A spokesman for Sen. Bob Menendez (D-N.J.), who has pushed for comprehensive immigration reform and a bill to give legal status to Dreamers, said he would continue to do so ― but not through a proposal like the one being floated.
Menendez "will continue to fight to put these 'model citizens'— as [White House chief of staff ] Kelly likes to refer to them ― on an earned path to citizenship by enshrining legal protections into law, but it must not come at the expense of making Americans pay for an offensive and ineffective wall, or by tearing families apart through a mass deportation agenda," Menendez spokesman Juan Pachon told HuffPost in an email.
The prospective White House proposal would tie protection for Dreamers to a reduction in legal immigration; funding for Trump's much-touted border wall and additional immigrant detention centers; and mandatory E-Verify for employers to check the legal status of potential hires, McClatchy reported.
Democrats have supported some of those items in the past, such as additional border fencing and an expansion of E-Verify in a failed 2013 comprehensive immigration reform bill. But that bill also came with a path to citizenship for a broader set of undocumented immigrants, not solely Dreamers, and did not cut legal immigration.
Dreamers are in an especially perilous position under Trump, who promised to end the DACA program but has not yet done so. A group of state attorneys general threatened him with legal action if he does not rescind DACA by Sept. 5, and Trump administration officials won't say whether they would defend the program should it go to court.
Given Attorney General Jeff Sessions' long-stated position that DACA is unconstitutional, it's possible he would let it go without a defense and kill it through the courts, if Trump doesn't simply end the program himself.
"Would you cut a deal which would result in your own mother being chased down and locked into a detention camp to be tormented and abused?"
The deal reportedly under consideration is being floated as a moderate option ― Kelly notably has said he thinks there should be something done through legislation to help Dreamers. Meanwhile, Trump policy adviser Stephen Miller, a former Sessions aide who opposes DACA, has not been allowed to brief Trump on the issue for months, according to the McClatchy report, suggesting his viewpoint could be sidelined.
But the idea of using Dreamers' protection to make immigration enforcement gains isn't a new one, or particularly moderate. And the reported proposal is more of an effort to implement restrictionist policies than a bid to help Dreamers, Todd Schulte, president of the pro-immigration reform advocacy group FWD.us, told HiffPost.
"It's way outside the mainstream of what the country wants and bipartisan consensus," he said. "This isn't going anywhere. If people are interested in actually having policy solutions for Dreamers, that's not what this is."
Ignacia Rodriguez of the pro-reform National Immigration Law Center termed it "shameful ... to use people's lives and basic need to feel secure in their homes as means for leveraging a political win."
"But to do this in order to enact a white-nationalist blueprint is repulsive," he added.
Dreamer advocacy groups, which have moved past pushing for protections for themselves without reprieve for their families and communities, also rejected the idea.
Lawmakers should "think of their own families before considering this latest 'deal' from Trump to use my brother's welfare to put a hit out on my parents," Cristina Jimenez, executive director of United We Dream, said in a statement.
"Would you cut a deal which would result in your own mother being chased down and locked into a detention camp to be tormented and abused?" she said. "The deal is morally wrong and must be rejected."
Before You Go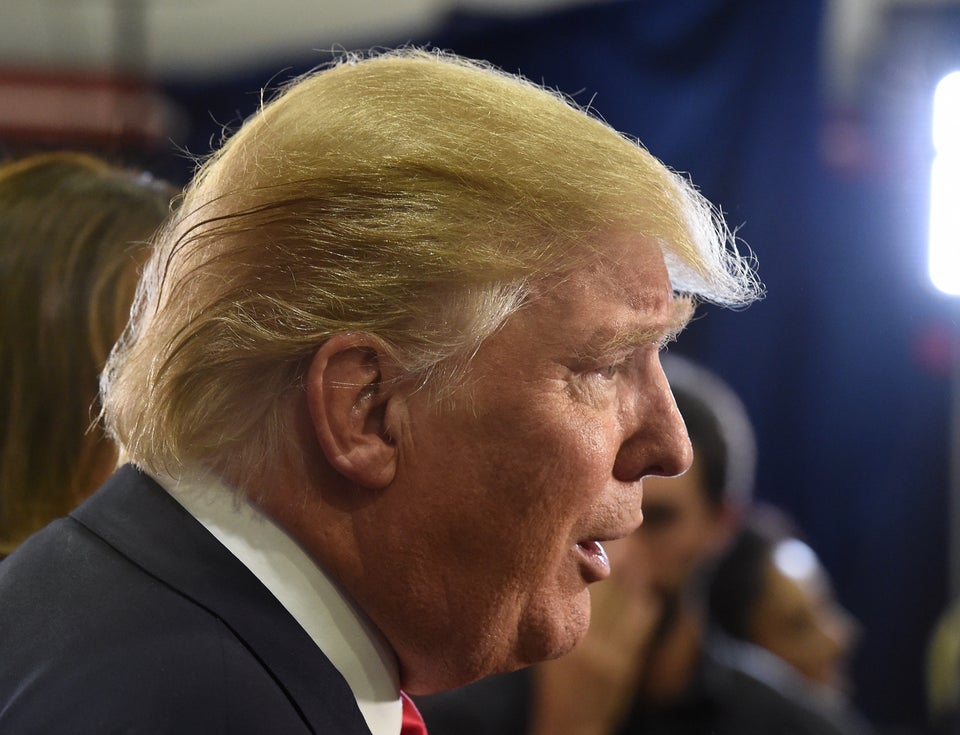 How Donald Trump Talks About Undocumented Immigrants
Popular in the Community