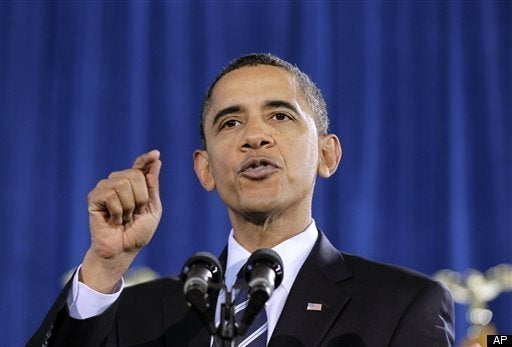 WASHINGTON -- The White House hatched a deal with congressional Republicans Monday to reauthorize rich people's tax cuts for two years in exchange for just 13 months of extended unemployment insurance and other tax breaks. Some people wondered why the White House wouldn't demand the same length of time for unemployment and tax cuts.
During a conference call with reporters on Monday evening, a senior administration official said a 13-month reauthorization would be the longest-ever extension of such a generous benefits program.
"This is the longest extension of unemployment insurance at this scale that we've ever had," the official said. "It's also the longest we've done in a while. And rarely have we done very much longer, but there have been times when smaller-scale ones were done for a little bit longer a while ago."
Congress has given the unemployed extra weeks of emergency benefits during every recession since the 1950s. As unemployment rises, more unemployed workers exhaust the regular 26 weeks of state-funded benefits without finding work. The average jobless spell currently lasts 33.8 weeks, according to Labor Department data released Friday.
In October 1983, with Republicans controlling the White House and the Senate and the national unemployment rate at 8.8 percent, extended benefits were reauthorized for 17 months. The benefits provided up to 24 weeks of help for workers who exhausted state aid.
The programs that would be reauthorized under the White House deal are called Emergency Unemployment Compensation and Extended Benefits. Together they provide up to 73 weeks of federally-funded benefits, meaning laid-off workers in states with the highest unemployment rates have been eligible for up to 99 weeks of checks.
Those programs lapsed last week because Republicans and conservative Democrats have demanded that the roughly $60 billion cost of a reauthorization not be added to the deficit. Democratic leaders have insisted that extended unemployment not be "paid for" mainly because it usually isn't. That was certainly the case in 1983.
With the tax cut deal, however, Republicans have signaled they'll relent in their deficit demands -- even though the deal is the biggest possible deficit buster.
Advocates for the unemployed are happy to get 13 months, especially considering the House voted on a bill that would have reauthorized the benefits for just three months.
"While it is a deal that gives much to the top 2 percent of wage earners in this country, and far less to those struggling the most in this economy, we commend the White House and all negotiators for realizing that the long-term unemployed need our continued support," said Judy Conti, a lobbyist for the National Employment Law Project. (Conti said on Monday it was a "shame" that two years of unemployment was not on the table.) "There is much more to be done, especially for those who are beyond the reach of the UI system, but this is a very positive first step."
If for some reason Congress rejects the White House deal, 2.5 million long-term unemployed could have their benefits cut off by the end of the month.

Calling all HuffPost superfans!
Sign up for membership to become a founding member and help shape HuffPost's next chapter