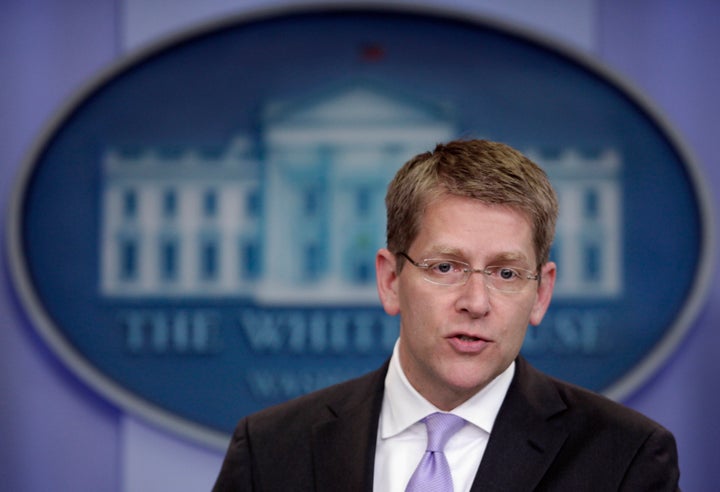 WASHINGTON -- White House Press Secretary Jay Carney fended off more questions Monday about President Barack Obama's seemingly contradictory stance on gay marriage, this time telling reporters it is "not very useful" to keep asking Carney for clarification on the matter.
Obama has long faced challenges on the issue, but he was under increased scrutiny in recent weeks in the lead-up to New York passing its gay marriage law on June 24. The president has said his position is "evolving," but that he currently believes gay marriage is a state issue. At the same time, he told activists in New York City the night before the vote that "gay couples deserve the same legal rights as every other couple in this country."
Carney fumbled his way through questions about how Obama squares his belief that gay marriage is a state issue while also believing that gay couples are entitled to the same rights as other couples. He dodged a question about whether the president believed it was the "power of our democratic system" at work when California voters rejected gay marriage last year -- the words Obama used last week as New York inched closer to passing gay marriage.
"Without commenting on a particular other state, I think he was making that clear with regard to the action in New York," Carney said in his daily press briefing. "But I'm not going to put words in his mouth applying to another state. I mean, you can analyze that, but -- because I haven't heard him say that."
"But obviously," Carney added, "what he said in New York was about his belief -- our belief -- that this is a matter that states should decide."
Pressed further the issue, the White House spokesman demurred.
"Well, look, I'm not going to -- the president has made his position clear. It's not very useful for us to have this debate," he said, later citing Obama's "exemplary" record on gay and lesbian rights.
"He continues to fight on behalf of that community for the rights -- for equal rights," he said, before abruptly ending his exchange with a reporter. "And his position on New York, he -- himself, rather than his press secretary -- spoke at length about just a few nights ago. So I'll leave it at that."
Obama's mixed messages on the issue are also increasingly putting him at odds with Democratic lawmakers urging a repeal of the federal Defense of Marriage Act (DOMA). Sen. Kirsten Gillibrand (D-N.Y.) last week joined with Democracy for America, Howard Dean's grassroots group, in a campaign aimed at repealing DOMA. She has pitched the effort several times on Twitter since her home state passed gay marriage last week.
"Now that we've won #marriageequality in #NY, pls join me & @DFAAction in our effort to repeal #DOMA: bit.ly/kgBvQQ," Gillibrand tweeted Monday.
The White House can expect more questions on the issue this week: Obama is hosting a reception on Wednesday to observe Lesbian, Gay, Bisexual and Transgender Pride Month.
Support HuffPost
The Stakes Have Never Been Higher
Popular in the Community