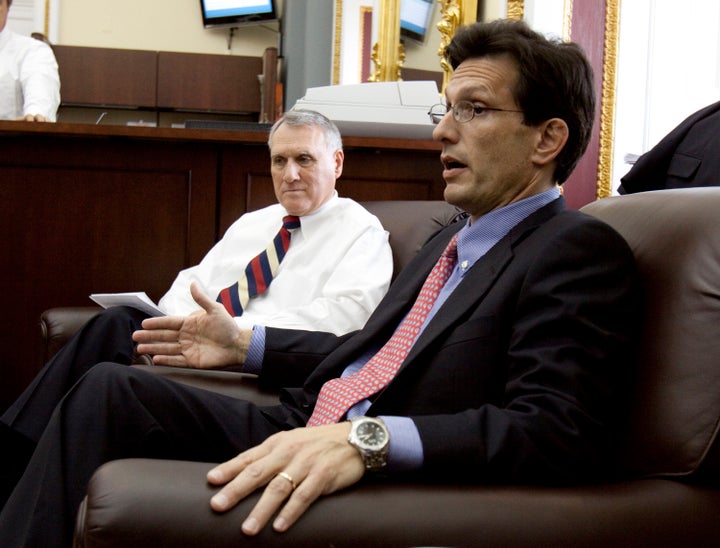 WASHINGTON -- The White House's proposed deficit talks with Congress appear to be unraveling before they've even begun.
House and Senate Republican leaders announced Tuesday that their sole appointees to the May 5th meeting would be House Majority Leader Eric Cantor (R-Va.) and Senate Minority Whip Jon Kyl (R-Ariz.)--neither of whom are budget leaders and both of whom function largely as political mouthpieces for their party. GOP leaders also each opted to send only one appointee, instead of the requested four, to the meeting.
"I remain skeptical that the administration will take this effort seriously, especially after it all but ignored its previous debt commission and President Obama had to be dragged kicking and screaming to consider minimal spending cuts for the rest of this fiscal year," Cantor said in a statement.
"A serious effort to get our fiscal house in order is sorely needed, however, which is why I believe this commission should commence with a clearly defined target and purpose, under a time frame to produce that result -- so that it doesn't end up in the graveyard of previous commissions that failed to improve our nation's finances."
At the same time, some Democratic sources said their own party's picks for the meeting aren't as credible as they could be. Senate Majority Leader Harry Reid (D-Nev.) and House Minority Leader Nancy Pelosi (D-Calif.) only named a total of four appointees instead of eight: Senate Finance Chairman Max Baucus (D-Mont.), Senate Appropriations Chairman Daniel Inouye (D-Hawaii), House Budget ranking member Chris Van Hollen (D-Md.) and Assistant Democratic House Leader James Clyburn (D-S.C.). But it's not the numbers that are the problem.
Pelosi's picks for the talks make the meeting "look silly" because Van Hollen and Clyburn "are just going to do what Pelosi wants, and she's not interested in compromise," said a senior Democratic aide. "The picks for this task force all reflect a lack of seriousness."
Obama called for the bipartisan talks during an April 13th address on fiscal policy and announced that Vice President Joseph Biden would take the lead. During his speech, the president bashed the House GOP budget proposal put forward by Budget Chairman Paul Ryan (R-Wisc.) and said he would not accept more tax breaks for the rich at the expense of entitlements. Ryan, who was seated in the audience during the speech, later called Obama's remarks "excessively partisan."
GOP leadership aides say there is nothing fishy about their picks for the White House meeting. McConnell spokesman Don Stewart said Republican leaders were "just trying to be efficient" by sending two appointees instead of eight; he called the White House's original proposal of 16 members "unwieldy." Boehner spokesman Michael Steel declined to comment on why Cantor was tapped instead of Ryan.
Kyl has played a role in past negotiations with the White House: He was the top negotiator for Senate Republicans in the tax-cut talks with the White House in December. But Kyl threw up several roadblocks to passing the START treaty as part of the tax deal--a top priority to Obama--and the final deal was finally hatched privately between Biden and McConnell.
Reid and McConnell both passed over members of the Senate's "Gang of Six" for the deficit meeting. That group has been working for months on its own deficit-reduction plan and has grumbled about the White House moving forward with its fiscal plan without factoring in the work the group has done.
The first meeting is set to take place at the Blair House, where a bipartisan group of lawmakers met with Obama for a largely unproductive health care reform summit in 2010.
Popular in the Community