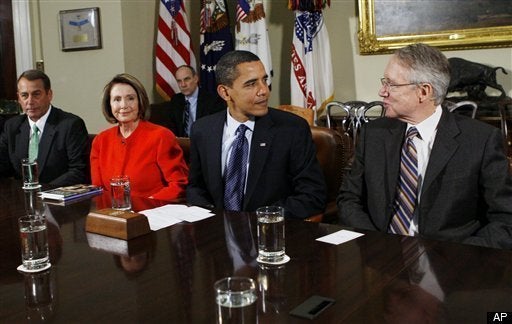 The White House is publicly treating Thursday's bipartisan health care summit as just another step in the process of passing comprehensive reform legislation.
Asked on Tuesday if it is the "last avenue" available for getting a bill passed, spokesman Robert Gibbs casually replied: "I hope not."
It's an effort to lower expectations.
Behind the scenes, the administration and congressional Democrats are meticulously preparing for Thursday's meeting and, more importantly, its immediate aftermath. Congressional leadership and the administration have held a series of discussions in the past few days to chart out a preliminary outline for the daylong event.
And although Gibbs has played it down, the summit is a make-or-break moment for health insurance reform.
"It's critical," said one Senate Democratic aide. "We need to emerge from this determined to get a bill passed. Or else, it won't."
Privately, administration officials have been talking with Democratic lawmakers about how they expect to pass legislation after the summit is over. The prospect of using the simple-majority budget reconciliation process -- once considered a last resort -- is now a virtual certainty. And legislative strategists who once focused on tallying senators have now turned their attention to the House, where concern is mounting that Speaker Nancy Pelosi (D-Calif.) will lack the necessary votes.
The entire process is incredibly delicate, and no one wants to leave things to chance. On Monday, senior administration officials briefed Democratic press shops on Capitol Hill on talking points for the summit. A chief concern, according to staffers who were in the meeting, was what to expect from Republican lawmakers attending the meeting. "What are they going to bring to the table?" asked one spokesperson.
"We are expecting for the GOP to be vague," said another.
On Tuesday morning, meanwhile, Senate Majority Leader Harry Reid (D-Nev.) met with his Democratic colleagues to discuss who will take the lead in tackling each of the summit's four issue areas: cost control, insurance market reform, deficit reduction, and coverage expansion. A White House aide told the Huffington Post that Obama himself will lead discussion of the first and last of those four issues. The president also will stay throughout the six-hour affair -- a huge chunk of time for the administration to set aside.
Among the most interesting theories posed by observers of the health care debate is that Obama and his team will introduce a strategic wrinkle into the summit's discussions. The big bet is on a very public embracing of some notable GOP proposal -- likely a variation of tort reform -- as a way of stripping Republicans of their talking point that the bill lacks bipartisan input. But not one official on Capitol Hill acknowledged talk along those lines.
The hope is that Obama can pull off a masterful performance that inspires his fellow Democrats. But no one -- not even the president's own press secretary -- is entirely sure if he has enough capital to work with.
"I'm not a vote counter on Capitol Hill," Gibbs said on Tuesday. "But I do believe this represents, among Democratic ideas, a good starting point based on where the Senate was with some tweaks to that legislation. But again, this is a starting point for discussions on Thursday that we hope will be fruitful."
"We have discussed this plan with Democrats," Gibbs added. "I know that they are evaluating parts of the legislation... I have confidence that based on the quotes that I've seen, this has been received warmly by Democrats on Capitol Hill."

Popular in the Community