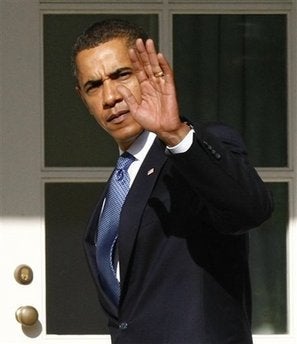 The White House, along with several progressive groups and high-ranking Democrats, is pushing back against reports that the administration is advancing a compromise proposal in which a public option would only be triggered by certain economic conditions.
On Wednesday morning, liberal strategist Mike Lux, who advised the Obama administration during the transition, wrote that White House officials were pushing the "trigger" compromise as a politically palatable way of avoiding "a floor fight in the Senate."
Lux's story affirmed, in some respects, reporting that I did several months earlier, in which a high-ranking Democrat who works closely with the White House on health care matters told me that the president's team saw the "trigger" as the end-game compromise to the public option debate.
It makes sense. The lone Republican senator who remains in play for Democrats -- Maine's Olympia Snowe -- is a vocal advocate for the trigger option. And should the Senate be forced to reconcile a bill that includes a robust public plan for insurance coverage (such as the Senate HELP Committee bill) and one without such a provision (the current construct of the Finance Committee's legislation) a trigger could be the bridge between them.
And yet, groups and individuals who communicate regularly with the administration on health care matters insist that they have not been pushed recently to get comfortable with the trigger. And so did the White House itself.
"The story about us reaching out to groups is not accurate," an administration official told the Huffington Post.
"I don't buy that and I'm not much into speculation," said Sen. Bernie Sanders, (I-Vt.). "It makes good media copy but no one knows what is going to happen... Even so, there has already been a major compromise in that we are not on verge of not doing a Medicare-for-all system, which is what many of us want."
"We have not gotten that call," said AFL-CIO spokesman Eddie Vale. (The major union conglomerate deals with the administration regularly.) "And we will continue to do what we always do -- fight for what is best for working families -- and that includes having a robust public option that will break the stranglehold of the insurance companies and lower costs by making them compete."
"We have not been contacted by the White House or told that they will buckle to the insurance industry and accept the trigger," said Charles Chamberlain, political director for Democracy for America, a progressive organization that has run health care-related ads against both Democrats and Republicans. "And if they did call and told us that, we would tell them it is unacceptable. It is the equivalent of having no public option at all. They probably know by now that's where we stand."
Several other individuals, who spoke on condition of anonymity to discuss conversations with White House officials, confirmed the above quotes. "The topic did not come up" during this week's call, said one member of a progressive working group that consults with the administration. Added another: "[The White House] did not go there."
The White House did not return requests for comment.
All of which is not to dismiss Lux's report. Another well-connected reform activist told the Huffington Post that the White House has discussed the trigger as a palatable political compromise in the past. Chief of Staff Rahm Emanuel is rumored to favor the approach as a means of getting legislation passed, having said as much as far back as early July.
Meanwhile, Roger Hickey of the Campaign for America's Future told The Plum Line's Greg Sargent on Wednesday that "it appears to me that the White House is not trying for any other strategy accept to satisfy Snowe with her version of the trigger."
At this juncture, however, the administration does not appear to be directly pushing its progressive base to get on board with the trigger option. They might know it's a pill many in the party are unlikely to swallow.
"The trigger is a political compromise and not a policy compromise," said former DNC Chair Howard Dean. "It is destructive and it will set back the cause of reform for 20 years."
Popular in the Community