 The First Lady chatted conversationally then took a more solemn tone:
As you may know, we've celebrated this holiday here at the White House every year since Barack took office. And there's a reason why we've done that, and I mentioned it to the kids -- when we say that we want to make the White House the "people's house," we mean all people. We mean that we want to honor and embrace all of the many cultures and faith traditions that make us who we are as Americans. And Diwali is very much one of those traditions.

...

But Diwali is also a time for contemplation and reflection. It's a time for us to think about our obligations to our fellow human beings, particularly those who are less fortunate than we are. And as we light the diya -- the lamp -- we recommit ourselves to the triumph of light over darkness, of good over evil.


But as we gather here this Diwali, we remember that there is still evil in the world. And I'm thinking today about what happened in Oak Creek, Wisconsin just last year when an act of unthinkable violence shook a community to its core. But I am also thinking of how in the face of such evil, we also witnessed the power of goodness and forgiveness.


The families and community leaders I met when I visited Oak Creek just weeks after the tragedy, they showed us such courage and grace. Instead of giving in to bitterness or despair, they honored those they lost through service. They honored those they lost through educating others about their faith and standing up to prejudice in whatever form it takes. I'm also thinking of all the people across America and around the world who held prayer vigils during that time and sent messages of love and support, and held the people of Oak Creek in their hearts.

...

And I am so proud and so honored to be celebrating this beautiful holiday at the White House with all of you. I want to thank you for everything that you do for our communities and for this country. And I wish you all and all your loved ones a Happy Diwali and Saal Mubarak. (Applause.)


And with that, we will now light the White House Diya.
For the Hindus, Jains, Sikhs and Buddhists celebrating Diwali this weekend, the Festival of Lights reaffirms the things in life that matter most. Dancing, celebration, and good food remind us that life's greatest joys are the simple pleasures that come from spending time with people we love. Contemplation and prayer remind us that that people of all faiths have an obligation to perform seva, or service to others. And the flame of the diya, or lamp, reminds us that light will ultimately triumph over darkness.

Here in the United States, Diwali also reminds us that our nation is home to many faiths and traditions, and that our diversity makes us stronger, which is why I'm proud that this year Democrats and Republicans in Congress joined together for the first-ever celebration of Diwali on Capitol Hill. Over the last five years, Michelle and I have been honored to have the chance to observe this ancient holiday, both at the White House and in India, and we wish all those celebrating this weekend a Happy Diwali and Saal Mubarak.
Related
Before You Go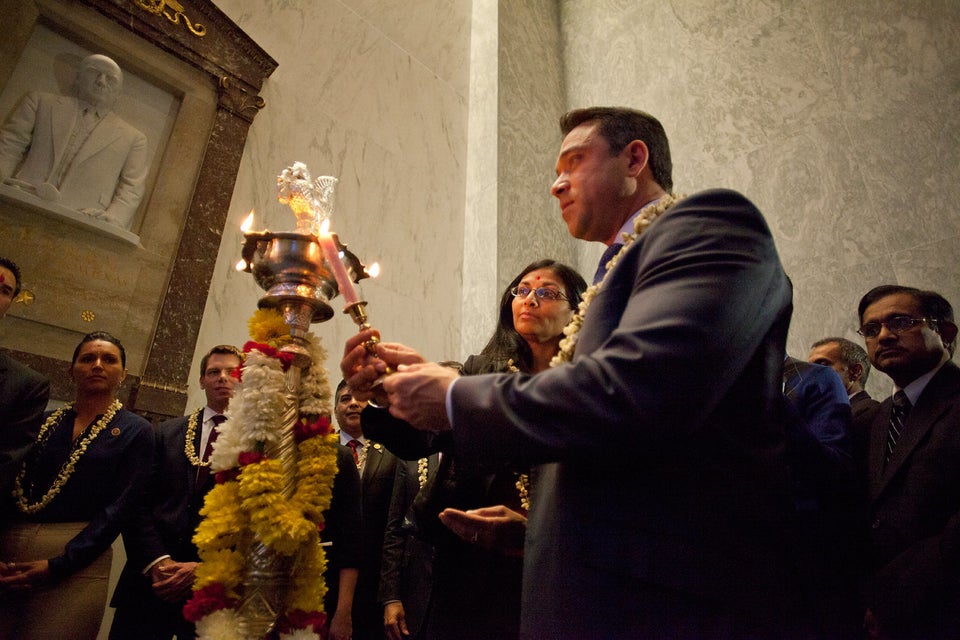 First Congressional Diwali
Popular in the Community