WASHINGTON, D.C. -- At the time of publication, White House doctors are expressing grave concern over the condition of President Donald Trump's right hand.
"During his first international trip as president," Dr. Henry Moosehead told reporters, "Mr. Trump shook hands with French President Emanuel Macron. That handshake wound up being absolutely devastating to the delicate sinews and tissues contained within the soft, toddler-like hands of the president, and we're afraid he may never wear kids' mittens again."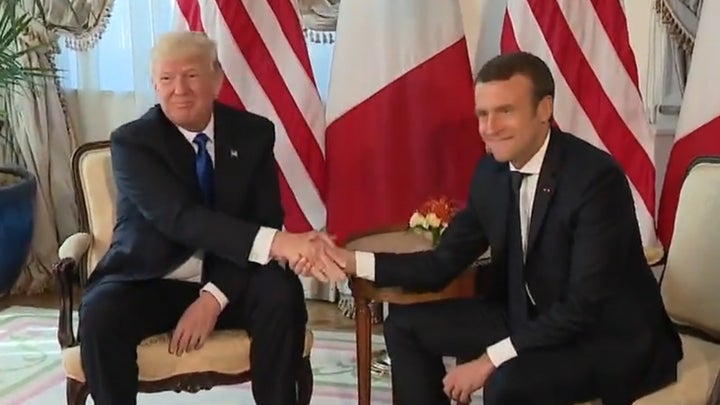 The subject of Trump's handshakes came to the fore not long after he was sworn in. Several heads of state who visited the White House were visibly taken aback by the force with which the president would yank on their hands and arms. Many posited that this is something Trump does on purpose to try and make up for his self-perceived shortcomings. Macron did not shy away from grabbing Trump's hand with gusto and did not let go even when Trump made a couple of attempts to let go.
"The president is a very, very wealthy man," Dr. Moosehead explained, "and as such, the most work his hands do are signing deposit slips on offshore accounts, credit card receipts for Russian piss whore parties, and self-gratification whenever a commercial for First Lady Ivanka's cheaply made merchandise of the week comes on the television. He was not prepared for the force and magnitude of Macron's handshake."
Moosehead describes the injuries to Trump's hand as "catastrophic in more ways than one."
"This is his dominant golfing hand," Moosehead explained, "so you can imagine how absolutely devastated Mr. Trump is. It's comparable to when past presidents would find out about a school shooting, or a terror attack. That's the level of personal pain and sorrow that the president feels over not being able to golf for a few days." Dr. Moosehead said that he and his staff are hard at work trying to find ways to restore Trump's hand to its full strength. Luckily for them, he says, the president's hand is so small doctors won't have to restore adult strength to it. In fact, he says that Trump asked him if he could just "buy a baby hand from Planned Parenthood," but Dr. Moosehead explained that those videos to which the president was referring were highly doctored and Planned Parenthood does not sell baby parts.
In a written statement, President Macron apologized for any damage done to Trump's hand. However, Macron said the explanation for why it happened is "very simple."
"I guess your angry orange president is a bit of a beta after all," Macron's statement reads in French, "and to borrow a phrase from him: SAD!"
This is a developing story.
Related
Popular in the Community