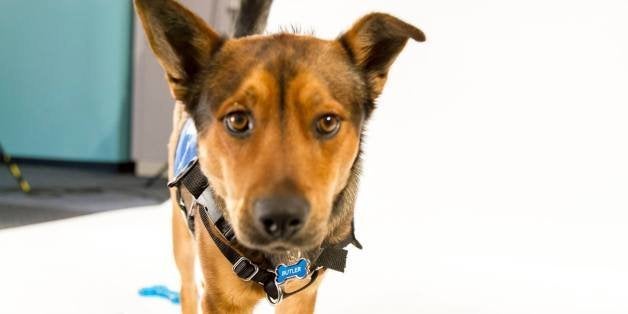 The Weather Channel has an official therapy dog. His name is Butler, and he has issued an open letter to Sunny and Bo Obama, the first family's Portuguese water dogs.
Butler's official mission is to comfort people in the aftermath of terrible storms and other forces majeures -- he's already been deployed to help out in Moore, Oklahoma, and Vilonia, Arkansas.
Butler and other dogs are "four-legged furry therapists during uncertain times," as he puts it in the note to Bo and Sunny. He goes on to ask this country's top canines to help celebrate the 99th anniversary of "Be Kind to Animals Week," from May 4-10:
Dear Bo and Sunny,

Big wags to you for bringing your mom, First Lady Michelle Obama, to the Fisher House at Walter Reed National Military Medical Center to raise awareness of our nation's military families and those who are treating them.

As The Weather Channel Therapy Dog and ambassador for American Humane Association, I, too, visit people and communities that have been severely impacted by natural disasters and work to provide a sense of comfort, and maybe even some healing, for the people who need it most. I like to think that with a helping paw, a shoulder to cry on or just a wagging tail, we can act as four-legged furry therapists during uncertain times.

More than two million children have watched a parent deploy to active U.S. military duty since the start of the Global War on Terrorism. Whether it's an empty chair at the dinner table or the fear of what might happen abroad, children are greatly affected when a parent is called to action.

Animal-assisted therapy is a powerful tool for bringing relief to children and families, and my organization, American Humane Association, partners with the National Military Family Association to provide thousands of families with warm, playful and loving therapy dogs, like myself, for Operation Purple camps and family retreats, which will be hosted throughout the country this summer. My experience has shown that children open up to therapy animals in ways they cannot – or maybe will not – with humans about the fear and anxiety they're facing.

Please join me and our fellow animals (humans, too!) on May 4-10 in celebrating "Be Kind to Animals Week," which was established in 1915 by American Humane Association to commemorate the roles animals have in the lives of humans, advocate responsible pet ownership and promote the humane treatment of all animals.

Citizens can make a difference by adopting a pet from a shelter or rescue, making sure their pets have up-to-date identification and vaccinations, allowing room in outdoor areas for wildlife, and reporting animal abuse.

Thank you for recognizing that instilling an attitude of kindness, consideration and respect for all living things through humane education in our communities helps to keep both humans and animals safe. Just as your dog parents ensure the rights of our country's human beings, I encourage your support in raising awareness for the movement to be kind to animals.

Woof,

Butler

Ambassador, American Humane Association
The Weather Channel Therapy Dog
The Obama dogs have yet to respond the message, which Butler's spokesperson Amy Scarlett tells HuffPost is not a first step toward the therapy dog becoming a certain sort of Washington animal.
"Butler does not currently have any political ambitions," said Scarlett. "He's very focused right now on his therapy career and helping people heal after experiencing the trauma of a disaster."
See Butler in action on his Facebook page. And get in touch at arin.greenwood@huffingtonpost.com if you've got an animal story to share!
Calling all HuffPost superfans!
Sign up for membership to become a founding member and help shape HuffPost's next chapter
BEFORE YOU GO
PHOTO GALLERY
Animal Photos Of The Week