 NEW YORK -- During Tuesday's White House briefing, press secretary Jay Carney repeatedly directed reporters asking about the Obama administration's drone policy to a confidential Justice Department white paper that provides the legal rationale for killing American citizens believed to be associated with al Qaeda.
Reporters have long sought more details about the legal justification for drone strikes aimed at Americans without a trial. The Obama administration, which promised years back to be "the most open and transparent in history," successfully fought The New York Times' Freedom of Information Act request earlier this month to obtain a classified legal memo reportedly justifying the deadly drone strike Anwar al-Awlaki, an American cleric linked to al Qaeda.
NBC News reporter Michael Isikoff obtained a copy of a 16-page, unclassified white paper sent in June to members of the Senate Intelligence and Judiciary committees. The scoop has driven the news cycle, taking on added significance given that White House adviser John Brennan, the oft-described drone architect of the Obama administration, will surely face questions on the subject Thursday at his confirmation hearing to become CIA director.
It's unclear why the White House couldn't have provided reporters with the unclassified white paper earlier, given long-running questions about the legality of the administration's drone program and and a media debate that's heated up in recent weeks, rather than only addressing the paper after a news organization publishes it.
However, Isikoff, a veteran Washington reporter, said he isn't surprised by the chain of events. Isikoff told The Huffington Post he encountered the "same scenario" during the George W. Bush administration when it came to controversial national security issues, such as memos outlining concerns about war crimes.
"It's very reminiscent of the way these things played out during the Bush administration," Isikoff said. "There was a complete reluctance to acknowledge anything related to enhanced interrogation techniques and warrantless wiretapping and other controversial policies until reporters fleshed out details and got a hold of documents and made them public."
Since Isikoff posted the memo on Monday, Carney has directed reporters to the document during press briefings.
"I would point you to the now-released -- it was not meant for public release, but it's not classified -- the now-released white paper, which goes into some detail on that very issue," Carney said. To another reporter, Carney said, "I would point you to the paper that we've been talking about that generated the stories today."
Carney, again, said he "would point [to] the speeches that have been given by senior administration officials to the document that we've been discussing here." Carney told another reporter Tuesday that "since it is out there, you should read it" and that "it's a click away."
After a reporter asked whether the White House would officially release the white paper, Carney mentioned that it's already online, a reference to NBC News' website, and then referred further questions to the Justice Department. Justice will not publish the document online, a department spokeswoman told The Huffington Post.
When not pointing to the white paper, Carney has often referred reporters to earlier public statements from officials.
That's something he's done previously in response to questions generated by a major drones-related scoop. Following The New York Times bombshell front-page story in May on the Obama administration's terrorist "kill list," Carney referred reporters to Brenann's speech at the Wilson Center weeks prior.
Even as reporters have new questions following the publication of the white paper, Carney has repeatedly directed questioners back to the same speech by Brennan, along with past public comments from Attorney General Eric Holder.
On Wednesday's front page, The New York Times reported on the existence of a secret drone base in Saudi Arabia -- a detail several news organizations had originally withheld at the CIA's request -- along with criticism from former military and intelligence officials that drone strikes could create more anti-American militants.
When asked Wednesday about that potential impact of drone strikes, Carney told a reporter that "in terms of the broader effort, I would refer you to the Pentagon," before again referencing Brennan's past public statements.
Related
Before You Go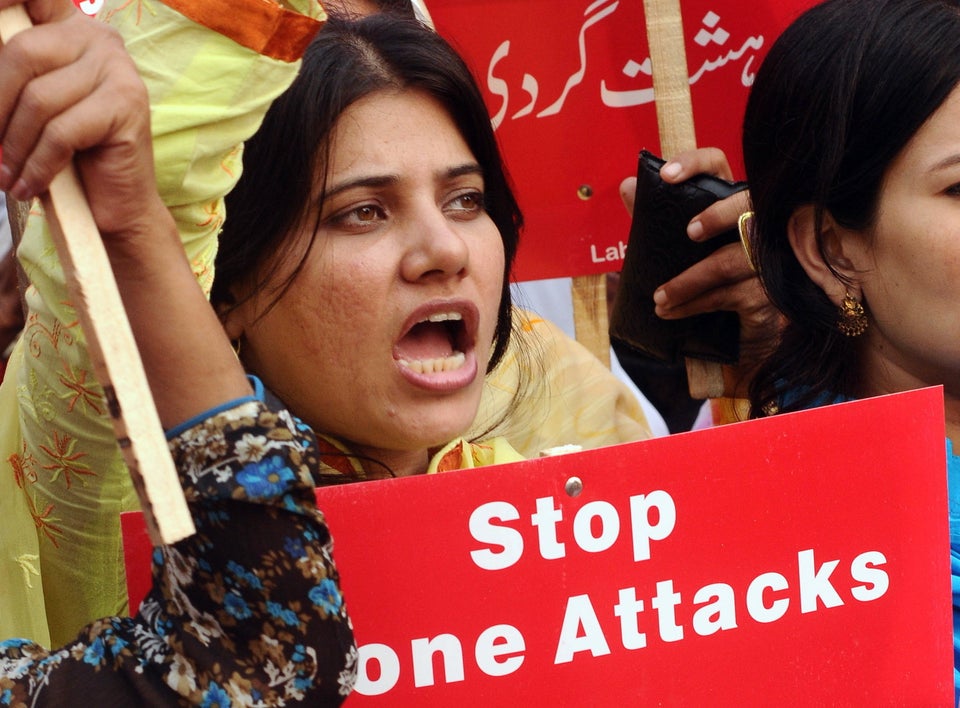 Protests Against Drones
Popular in the Community