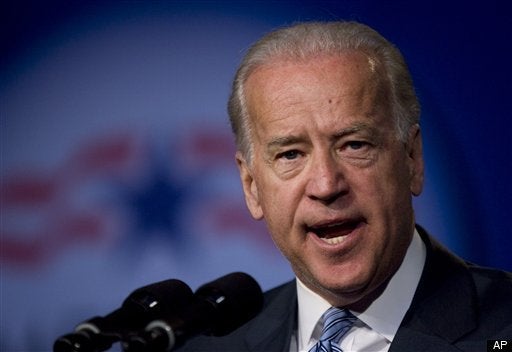 The White House is gearing up for five days of events to celebrate the 40th anniversary of Earth Day, and they're starting big. Vice President Joe Biden announced today a plan to invest $452 million in Recovery Act funding to go toward energy-efficient building retrofits in 25 communities.
"For forty years, Earth Day has focused on transforming the way we use energy and reducing our dependence on fossil fuel - but this year, because of the historic clean energy investments in the Recovery Act, we're poised to make greater strides than ever in building a nationwide clean energy economy," Biden said in a statement. "This investment in some of the most innovative energy-efficiency projects across the country will not only help homeowners and businesses make cost-cutting retrofit improvements, but also create jobs right here in America."

The 25 projects, which will begin in fall 2010, will also gain an estimated $2.8 billion from other sources over the next three years, which will go toward retrofitting hundreds of thousands of homes and businesses in the U.S.
Here's a list of the cities that will be getting funds for retrofitting, with the final dollar amount subject to negotiation.

Austin, Texas - $10 million
Boulder County, Colorado - $25 million
Camden, New Jersey - $5 million
Chicago Metropolitan Agency for Planning - $25 million
Greater Cincinnati Energy Alliance, Ohio - $17 million
Greensboro, North Carolina - $5 million
Indianapolis, Indiana - $10 million
Kansas City, Missouri - $20 million
Los Angeles County, California - $30 million
Lowell, Massachusetts - $5 million
State of Maine - $30 million
State of Maryland - $20 million
State of Michigan - $30 million
State of Missouri - $5 million
Omaha, Nebraska - $10 million
State of New Hampshire - $10 million
New York State Research and Development Authority - $40 million
Philadelphia, Pennsylvania - $25 million
Phoenix, Arizona - $25 million
Portland, Oregon - $20 million
San Antonio, Texas - $10 million
Seattle, Washington - $20 million
Southeast Energy Efficiency Alliance - $20 million
Toledo-Lucas County Port Authority, Ohio - $15 million
Wisconsin Energy Conservation Corporation - $20 million

For more information on the selected projects, visit here A map of the selected projects is available here.

Aside from government action, President Obama also made a request for citizens to take action on the local level-- you can visit the White House's Earth Day page to learn more on how to get involved.
Beyond that, the White House has a packed schedule of events and speeches across the U.S. to address environmental challenges facing the nation. Check back for updates on these events as they happen in the coming days.
Calling all HuffPost superfans!
Sign up for membership to become a founding member and help shape HuffPost's next chapter