The White House on Monday released a statement from President Donald Trump, congratulating the multinational oil conglomerate Exxon Mobil Corp. Included in the formal language of the White House release were several sentences taken directly from an Exxon Mobil corporate press release issued earlier that day.
The White House did not attribute the language to Exxon Mobil, and a spokeswoman did not respond to questions from The Huffington Post about the copied lines. But the duplicated text underscores how tightly the Trump administration is intertwined with many of America's largest corporations, and with Exxon in particular.
The president has made fossil fuels a cornerstone of his economic growth policy, and his newly confirmed secretary of state, Rex Tillerson, was until January the chairman and CEO of Exxon.
Below is the White House's statement released at 3:45 p.m. EST, with relevant paragraphs highlighted.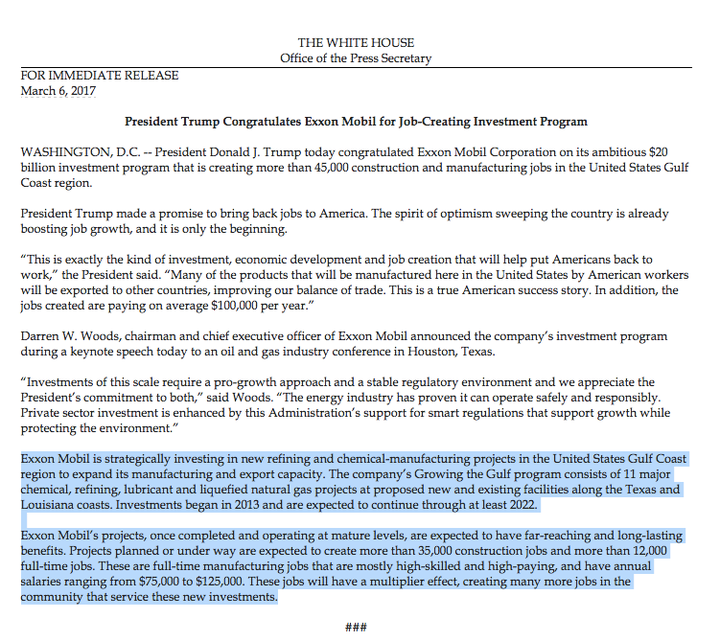 Half an hour before the White House released its statement, Exxon issued a corporate press release announcing planned investments in new oil refineries and chemical plants on the Gulf Coast.
Exxon's corporate release contained a paragraph that the White House would later use, verbatim, in its own release.
ExxonMobil is strategically investing in new refining and chemical-manufacturing projects in the U.S. Gulf Coast region to expand its manufacturing and export capacity. The company's Growing the Gulf expansion program, consists of 11 major chemical, refining, lubricant and liquefied natural gas projects at proposed new and existing facilities along the Texas and Louisiana coasts. Investments began in 2013 and are expected to continue through at least 2022.
The Exxon Mobil release also included a quote from the company's chairman and CEO Darren Woods, in which Woods described the potential benefits of the corporate investment.
"Importantly, Growing the Gulf also creates jobs and lasting economic benefits for the communities where they're located," Woods said. "All told, we expect these 11 projects to create over 45,000 jobs. Many of these are high-skilled, high-paying jobs averaging about $100,000 a year. And these jobs will have a multiplier effect, creating many more jobs in the communities that service these new investments."
Less than an hour later, Woods' quote had been repackaged by the White House into a paragraph that seemed as though it were written by the president's press office, without any attribution to Woods (emphasis added):
Exxon Mobil's projects, once completed and operating at mature levels, are expected to have far-reaching and long-lasting benefits. Projects planned or under way are expected to create more than 35,000 construction jobs and more than 12,000 full-time jobs. These are full-time manufacturing jobs that are mostly high-skilled and high-paying, and have annual salaries ranging from $75,000 to $125,000. These jobs will have a multiplier effect, creating many more jobs in the community that service these new investments.
The apparent copy-and-paste job by White House staff is an example of the sort of unforced errors that have plagued the Trump administration from day one. Inadequately vetted policies and rushed, sloppy statements like this one have undermined a core aspect of Trump's ostensible appeal as a candidate ― that his experience managing a family real estate empire would translate into effective management of the federal government.
Even if the White House had not copied language directly from Exxon Mobil, the fact that Trump used official White House communication channels to heap praise on a private corporation could be seen as a violation of a law that bans federal employees from using their public positions to promote commercial products. Trump's senior adviser, Kellyanne Conway, was recently found to have violated the same prohibition when she promoted Ivanka Trump's clothing line in a TV news interview.
Reached for comment, Exxon spokesman Alan Jeffers told HuffPost the company "provided [the White House] with information about an announcement we were making and they decided to issue a statement congratulating us."
Popular in the Community