Britain, France and Germany have all called for Israel to exercise restraint after Monday's bloodshed near the Gaza border. But the Trump administration has declined to hold Israel accountable for the violence, saying that the Palestinian Islamist group Hamas was to blame.
"Hamas is intentionally and cynically provoking this response," Shah added, suggesting the clashes were "a gruesome and unfortunate propaganda attempt" orchestrated by Hamas' leaders.
Shah's remarks echoed Israeli Prime Minister Benjamin Netanyahu's insistence that Hamas was solely culpable for the violence. Netanyahu claimed that Israeli forces were merely defending their borders when they opened fire on the Palestinian demonstrators.
Alistair Burt, Britain's minister for the Middle East, said it was "deplorable that extremist elements may have been seeking to exploit these protests for their own violent purposes." He also said the "large volume of live fire" used by Israeli forces was "extremely concerning."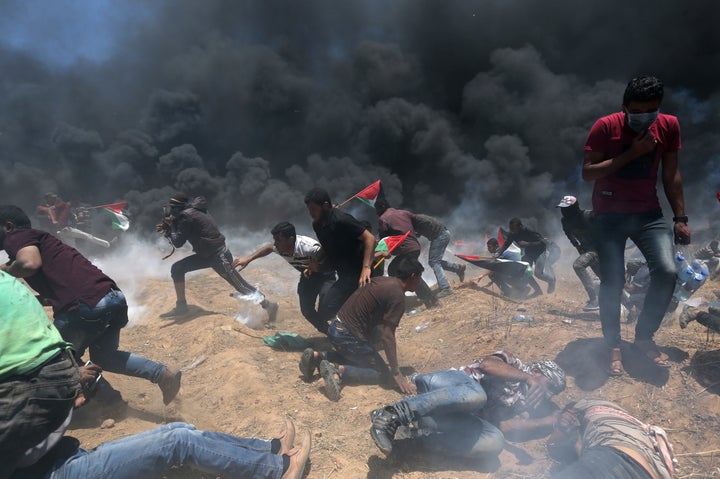 Clerics and leaders of militant factions in Gaza, led by Hamas, urged Palestinians to join the demonstrations after midday prayers, The New York Times reported. As the protesters descended upon the Gaza border on Monday, U.S. dignitaries ― including Treasury Secretary Steve Mnuchin and presidential advisers Ivanka Trump and Jared Kushner ― were celebrating the opening of the controversial new American embassy in Jerusalem.
The Israeli military said in a statement that some protesters "hurled firebombs and explosive devices at the security fence and Israeli troops," and soldiers had followed "standard operating procedures" in response.
No Israeli soldier or civilian was killed or wounded in Monday's clashes, according to Vox.
More protests at the border are expected on Tuesday ― a day that marks the 70th anniversary of what Palestinians call the Nakba, or catastrophe, when hundreds of thousands of Palestinians were displaced during the 1948 war. The Nakba protests are expected to mark the last day of the protest campaign.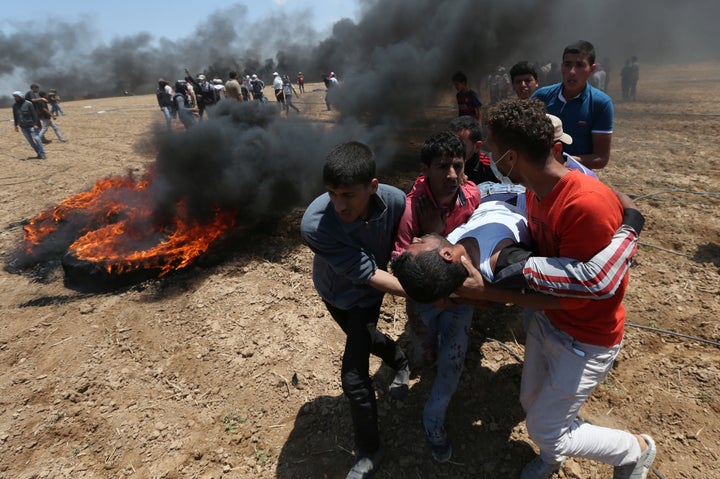 Popular in the Community