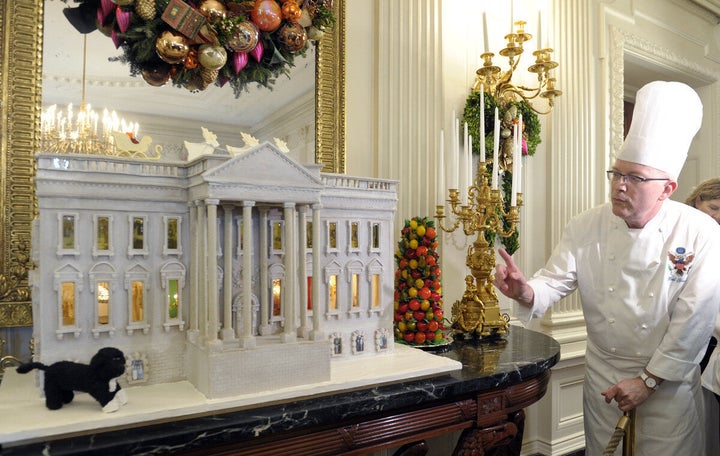 There's no mistaking that the holidays are around the corner. It's getting colder, the shops are playing "It's Beginning to Look a Lot Like Christmas" on their overhead speakers and now, the final nail in the coffin: the White House just put up its yearly gingerbread house.
The gorgeous replica of 1600 Pennsylvania, created by Executive Pastry Chef Bill Yosses, weighs 300 pounds and features a candy version of the First Lady's Kitchen Garden, a marzipan rendering of First Dog Bo, shadow box rooms filled with chocolate furniture, photos in the windows, working electric lights, Santa and reindeer on the roof and tall Christmas-themed trees spun from colorful globes of blown sugar. Yosses and his team spent more than six weeks prepping for Wednesday's big reveal.
Mrs. Obama declared the work "phenomenal" when she welcomed military families on Wednesday to the gingerbread house's first viewing. The families were also invited to enjoy the rest of the White House's holiday decorations. The house will be on display in the State Dining Room throughout the holiday season; nearly 90,000 White House guests will likely view it in December.
Obama Foodorama offers some in-depth details about the house, which is with various flours made with rye, buckwheat and whole wheat. The structure is held together with a "spackle and mortar" made with white chocolate, and silicon molds were used to achieve realistic architectural details.
Our one gripe: look how huge Bo is in proportion to the rest of the house! Even Michelle remarked on it. "He is almost as big as the house," she said. "That basically represents Bo's standing ... he is such a huge personality."
Get a closer look at this year's White House gingerbread house in the gallery below.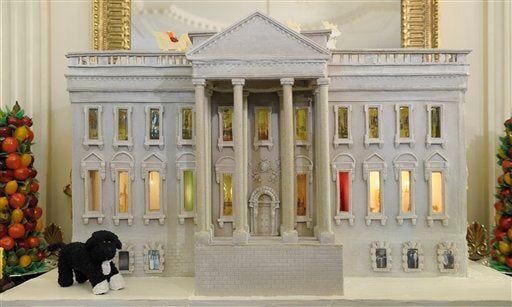 The White House's 2012 Gingerbread House