WASHINGTON ― As part of Wednesday's nationwide walkout against gun violence, hundreds of students from Washington-area schools gathered at the White House before marching to the U.S. Capitol, in a bid to take their gun reform message directly to lawmakers.
At 10 a.m., they sat for a 17-minute moment of silence in honor of the victims of last month's massacre at Marjory Stoneman Douglas High School, with some students holding posters with the names of the dead.
President Donald Trump wasn't there to see their protest as he was completing a trip to California.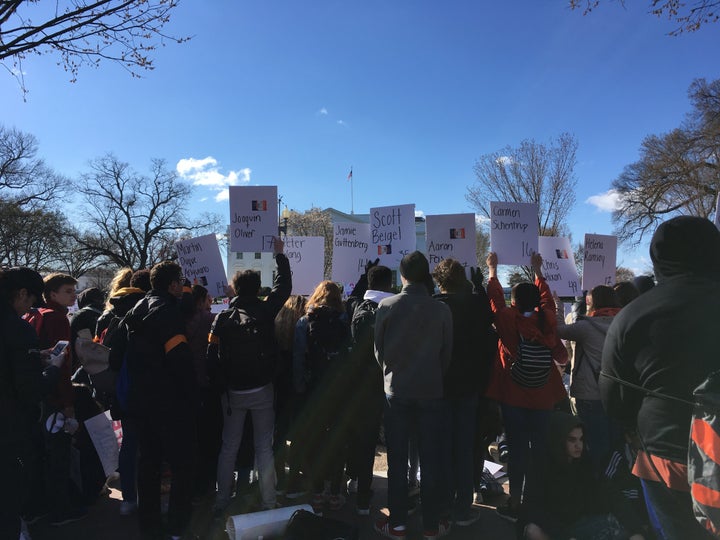 Students told HuffPost that they had gathered early Wednesday morning at their schools in nearby suburbs and then took the Metro into the city.
Billy Scott, a student at Montgomery Blair High School in Silver Spring, Maryland, said that like many other schools, his held a moment of silence on Wednesday. But he thought that participating in a protest at the White House would be a bigger show of support for gun violence victims.
"Coming to D.C., coming to the White House, is a whole other thing to get our point across," he said. "Power in numbers, right?"
Vasiliki Frantzis, from Winston Churchill High School in Potomac, Maryland, said that she remembered the Sandy Hook Elementary School shooting in 2012, which she said made her think about why people "would try to bring a gun into school."
Rohan Kurup, from Northwood High School in Montgomery County, Maryland, said that he normally has not taken part in student protests, but was inspired this time.
"Maybe I should," he said. "I don't want to get shot at school."
Most of the students who spoke to HuffPost said that school administrators and teachers seemed sympathetic toward students' participation in Wednesday's walkout, although they couldn't publicly express that support. In fact, many schools nationwide have said they will penalize students with unexcused absences.
Callie Newburgh and Chloe Appel, from Magruder High School in Rockville, Maryland, said some administrators were worried that "pro-gun people would put us in harm's way."
Appel estimated that about half of her school's students were active in the protests, some at the White House and others at a lunchtime moment of silence at their school.
"The other half thinks it's useless because we're minors," Appel said. "There are so many minors being affected by this. We can really make a difference, even if we're not 18."
Some students held signs noting that they would soon be old enough to vote, and their many chants included "Rock the vote."
"We're the next generation," Scott said.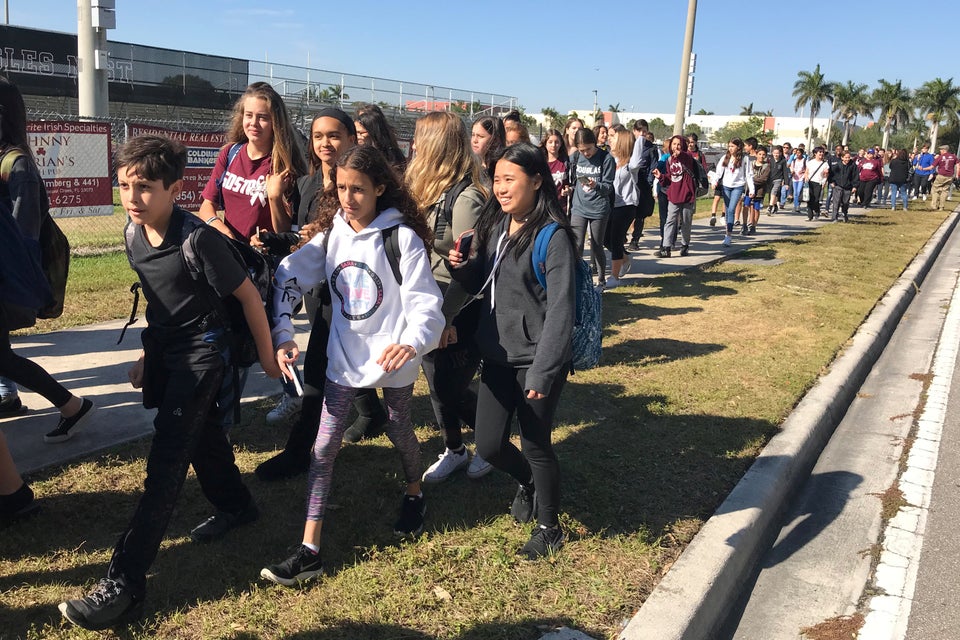 Students Walkout To Protest Gun Violence