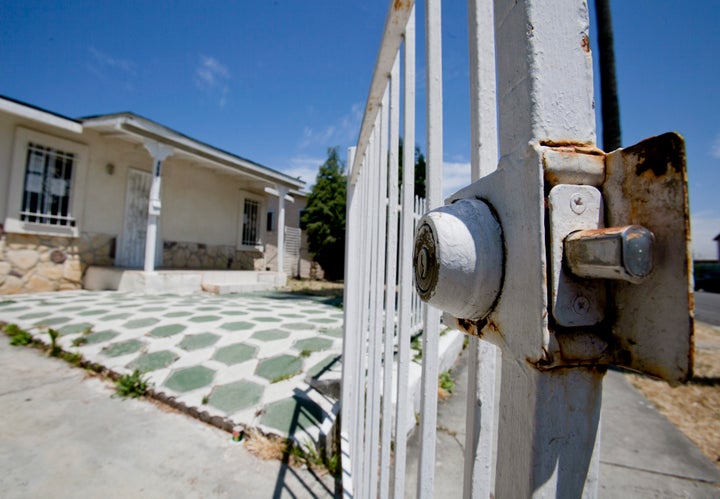 WASHINGTON -- President Obama said in 2009 that his flagship anti-foreclosure scheme would "enable as many as 3 to 4 million homeowners to modify the terms of their mortgages to avoid foreclosure."
The initiative, known as the Home Affordable Modification Program, has been off track ever since its launch. So far it's resulted in fewer than 700,000 permanent modifications while nearly a million mods have been canceled. Fewer than a million homeowners remain eligible.
But the administration said Friday that its efforts "jump-started" loan modifications: "More than 4 million families have had their mortgages permanently modified since April, 2009 –- nearly twice the number of foreclosures which occurred in that time."
A White House official explained on background that the 4 million figure includes 817,000 permanent HAMP modifications (even though 125,864 of those have been canceled), more than 1 million loss mitigation changes executed by the Federal Housing Administration, and 2.5 million modifications banks did on their own.
The administration long ago shied from its 3 to 4 million goal for HAMP. Instead, since 2010 it's taken credit for private loan modifications, arguing that HAMP has set industry-wide standards for the process. The initiative's most notable features are its three-month "trial" modifications and its requirement that monthly payments be lowered to 31 percent of monthly income, typically a reduction of hundreds of dollars per month.
In response to a query from HuffPost, on Friday the administration official provided several statements from industry executives supporting its argument.
"One of the significant advantages of HAMP has been the establishment of standards," Bank of America mortgage executive Barbara DeSoer testified before Congress. "And in particular, the debt-to-income ratio that was used, even on our proprietary programs prior to HAMP, was higher than 31 percent."
"HAMP served as a catalyst ... a mobilizing event to push servicers to take broader actions at a more rapid pace," testified Wells Fargo mortgage honcho Michael Heid.
And a February report from Fitch Ratings said "the HAMP program, while not meeting its volume projections, did help to bring a needed standard to varied programs offered prior to its introduction and to focus attention on the use of mods."
Neil Barofsky is a senior fellow at NYU's law school and the former Special Inspector General for the Troubled Asset Relief Program, better known as the Wall Street bailout. Barofsky has long lambasted the administration for not holding banks and other mortgage servicing companies accountable when they violate HAMP's guidelines.
When asked what he thought of the administration taking credit for private (or "proprietary") modifications, Barofsky criticized the administration for trumpeting the private programs.

"No matter the spin, the bottom line is that they are touting proprietary modifications that: (1) have double the redefault rate as HAMP modifications; (2) are riddled with borrower-harming provisions (like allowing for the capitalization of late fee charges incurred during a trial modification) that profit the servicer and increase the likelihood of redefault; and (3) include conditions that would never be allowed in a government-sponsored modification," Barofsky said in an email.
"The servicers, as a result, are being lauded rather than being punished for having wrongly pushed borrowers out of HAMP and into these more profitable but less desirable modifications."
Lydia del Rossi, a health insurance broker in Aiken, S.C., first applied for a loan modification via HAMP in June of 2009. She said her bank, JPMorgan Chase, told her to go ahead and make reduced monthly payments but frequently asked her to resend documents -- a typical homeowner complaint.
Borrowers are eligible for the program if they're behind or merely at risk of missing payments because of reduced income or increased expenses. On their 2009 application, del Rossi's husband wrote, "As a self-employed carpenter my work decreased after neck surgery and I have had to rely on my pension and IRA investment income which has been affected by the market decline."
In February 2010, they received a past due notice for more than $15,000 -- del Rossi said it was as if the bank hadn't received any of their reduced payments at all. Many homeowners who've applied for the program have been surprised to learn that their modification actually puts them behind on their mortgage, even if they're making payments as instructed. For two years, del Rossi said their status was never clear -- they'd be told they didn't qualify one day, and told to resubmit documents another. She said the bank "hounded" them about being behind with phone calls and notes on their door.
A Sept. 15 letter from Chase said they were not eligible for a mod because they "did not provide all of the documents we requested within the required timeframe, or your documents were incomplete." But del Rossi said she was told last week that they'd be granted a modification after all. Her two-year application process finally succeeded.
"I am one of the lucky ones," she said. "It is not a real program. Sometimes you just get lucky."
Banks generally don't comment on individual customers. Chase spokesman Tom Kelly said, "Since the beginning of 2009 Chase has completed 404,000 permanent modifications."
CORRECTION: The article originally said more than a million trial mods have been canceled. In fact, 765,345 trials and 125,864 permanent mods have been canceled, according to the most recent update from the Treasury Department.

Calling all HuffPost superfans!
Sign up for membership to become a founding member and help shape HuffPost's next chapter