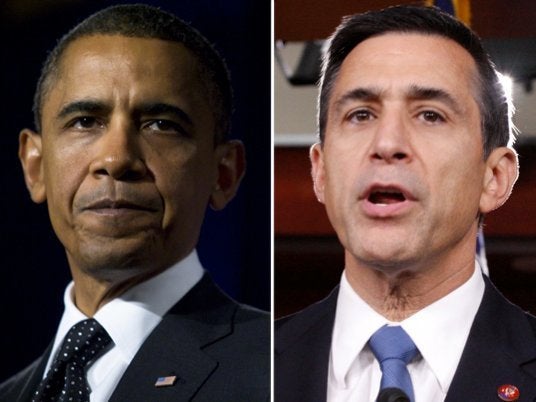 WASHINGTON -- The Obama administration is staffing up in preparation for expanded oversight and inquiries from a Republican-run House of Representatives.
Eric Schultz, the former communications director of the Democratic Senatorial Campaign Committee, officially joined the White House on Monday. While his portfolio will include issues primarily dealing with the Department of Justice, another key function will be to handle matters relating to and resulting from investigations launched by Rep. Darrell Issa (R-Calif.), chairman of the House Oversight Committee.
"Eric Schultz started Monday. He will be one of three associate communications directors, alongside Kate Bedingfield and Sandra Abrevaya," said a top administration official. "Eric's portfolio of issues will focus mainly on DOJ and other oversight-related topics."
Issa's investigatory arm has thus far been a bit more subdued than early reports suggested it might be. But that doesn't mean the California Republican lacks bite. Issa's committee has held hearings on everything from environmental regulations to the Presidential Records Act, from freedom of information standards at the Department of Homeland Security to the underlying causes of the foreclosure crisis.
Currently, Issa's office is entangled in an effort to uproot information on firearms being transferred via Bureau of Alcohol, Tobacco, Firearms and Explosives agents to straw purchasers in Mexico. On Tuesday, the Oversight Committee announced it would hold hearings on a draft executive order requiring federal contractors to reveal their campaign donations. An Obama administration official will testify at those hearings.
Much of the administration's pushback to these inquiries or hearings has been done by the agencies themselves rather than by the White House's own press team.
Schultz steps into a position that the president's communications shop has been attempting to fill for some time. The original candidate for the role was former press aide Ben LaBolt, but he left the administration to head communications for Rahm Emanuel's mayoral run in Chicago. Rather than returning to the White House upon Emanuel's win, he signed on as press secretary for President Barack Obama's reelection campaign.
Schultz is no stranger to hostile political climates. Prior to taking over at the DSCC, he handled press for Al Franken's 2008 Senate campaign in Minnesota, including the months-long recount against former Sen. Norm Coleman. Before that, he was national press secretary for John Edwards' 2008 presidential bid, at one point tasked with handling press inquiries relating to Edwards' extramarital affair.
Popular in the Community