WASHINGTON -- The Obama administration and allied Democrats on the Hill quickly began exploring potential responses to the Supreme Court's decision Monday to dramatically limit the contraception mandate in the president's health care law.
A Senate Democratic leadership aide told The Huffington Post that the party was already crafting a bill to respond to the ruling, which said the government cannot force closely held corporations to pay for contraception coverage if their owners object on religious grounds.
The range of options is fairly limited, aides cautioned, and they all present political hurdles.
Still, Democratic leadership is eager to tackle the matter head-on, confident that public opinion is on their side. Moments after the 5-4 decision came down in the Hobby Lobby case on Monday, Senate Majority Leader Harry Reid (D-Nev.) illustrated that defiant stance when he declared, "If the Supreme Court will not protect women's access to health care, then Democrats will."
In actuality, the leadership aide said, party officials had begun strategizing how best to respond to a possible adverse ruling well before the court's decision was announced.
There are at least four types of regulatory or legislative fixes that Democrats might pursue. One would be to write a new regulation requiring an insurer to cover the cost of contraception that the corporation claiming a religious objection refused to cover. The second would be to have the government, in some fashion, cover the cost of that contraception. The third would be to amend the Religious Freedom Restoration Act (which was the basis of Hobby Lobby's successful lawsuit) to specify that corporations are not granted certain protections given to individuals and others. The fourth would be to amend the statute in the opposite direction, by adding explicit language protecting individuals from having employers' religious beliefs imposed on them.
The last option is being pushed by the Center for American Progress, a think tank closely aligned with the Obama White House. But Obama administration officials are hesitant to pursue a response that would amend the Religious Freedom Restoration Act, wary of the unintended repercussions. Their preference is to simply restore the health care benefits lost in the Hobby Lobby decision and to do so through legislation as opposed to executive action.
"It is our view ... that Congress needs to take action to solve this problem that's been created, and the administration stands ready to work with them to do so," White House press secretary Josh Earnest said on Monday. "Congress should act to address the concerns of the women who are affected by this decision."
Relying on Congress would make the task of responding to the Supreme Court harder for Democrats, a point that was not lost on Hill aides interviewed for this article.
Justice Anthony Kennedy, in his concurrence on the Hobby Lobby decision, implied that the government could solve the issue by extending coverage through a change in regulatory language. The Obama administration previously did as much for religiously affiliated nonprofit groups when it said that such employers who oppose covering contraception services could offload the cost onto insurance companies. As Kennedy wrote, there is "an existing, recognized, workable, and already implemented framework to provide coverage" for birth control where employers won't.
Congress could try to pass a bill that would extend that option to closely held corporations as well. But to become law, the bill would need to make it through the Republican-led House of Representatives, which has shown little eagerness to poke the beehive of social conservatism by expanding contraception availability or passing a law that assumes Obamacare remains in place.
UPDATE: 5:20 p.m. -- Sen. Dick Durbin (D-Ill.) announced Monday that in light of the Hobby Lobby ruling, he will introduce a bill that "requires all corporations using this Supreme Court decision to deny or limit contraception services to disclose this policy to all employed and applicants for employment."
A Senate Democratic aide confirmed to The Huffington Post that this Durbin bill is different from the main legislation that the party will introduce in response to the court's decision. That bill will likely be much broader in scope.
Want more updates from Sam? Sign up for his newsletter, Spam Stein.
Before You Go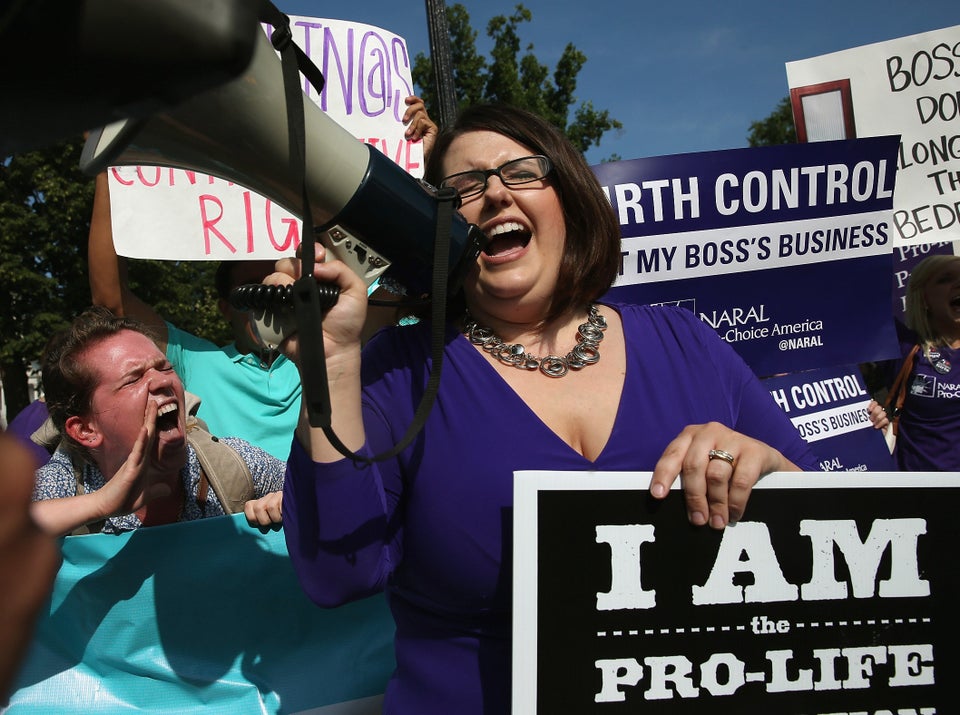 Supreme Court Hobby Lobby Decision
Popular in the Community