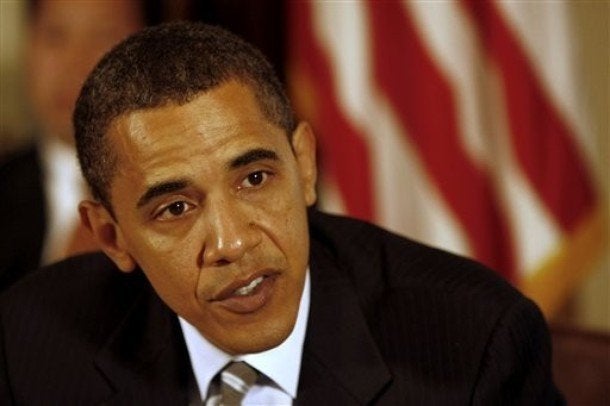 In the latest in a series of conflicting statements, White House officials on Monday insisted that they never entered into a deal with pharmaceutical companies whereby they agreed not to allow the government to negotiate lower drug prices for Medicare.
In a briefing with mostly new media reporters, three senior administration officials who spoke on condition of anonymity pushed back against reports that the White House had made such a pledge in return for $80 billion in promised cost savings over ten years.
"There was no discussion" of refraining from using the government's purchasing power to lower prices, said one of those aides. "It just didn't come up," said another.
Previous White House statements had only fueled speculation that such a deal had been made. Last week, Deputy Chief of Staff Jim Messina, told the New York Times the president had "encouraged" the compact with Big Pharma.
Later in the week, another White House official told the Huffington Post that President Obama wanted to keep Big Pharma's concessions to $80 billion -- and that any measures that would pursue cuts to prescription drug prices, should be considered outside of the health-care overhaul legislation.
When, on Sunday, the lobby group PhRMA pledged to spend $150 million in an ad campaign supporting the president's health care agenda, it appeared to be yet more confirmation of a significant pre-existing arrangement.
On Monday, White House aides called early reports "confused" and "confusing." They acknowledged that they had struck a deal with the pharmaceutical industry on one front, but not the one reported.
The administration, they said, promised that in exchange for the $80 billion commitment it would not push for the inclusion of Medicare rebates as part of health care legislation. Under such a scenario, drug makers would pay back the government some of the difference between the higher prices charged under Medicare and the lower prices that are charged under Medicaid. It is one of several ways the government could lower the price of prescription drugs for seniors.
"In my view the only thing we said we wouldn't do is we said we would not pursue a Medicare drug rebate policy as part of health care," said the senior official, who added that such a plan would have faced a steep climb to passage in the Senate Finance Committee regardless. "This is the legislative process. It was taking place a little bit earlier than it normally takes place... But it made a lot of sense to us to have it happen because then, you could short circuit plans to work against health care reform. Because...those companies would have gone to the mat to work against a Medicare drug rebate, which my advisers on the Hill told me probably wouldn't pass anyway. So it made sense just to move forward."
In an interview with the Huffington Post on Monday afternoon, Ken Johnson, the senior vice president for the pharmaceutical industry's lobby, would not get into specifics about the conversations with representatives of the White House and the Senate Finance Committee. But he noted that his organization had made it clear from the very beginning "that we cannot support price controls."
Pressed about the discussions, Johnson added, "Among honorable people there can be honest differences of opinion..." Later, he would say that there was no distance between his and the White House's interpretation of the event.
"It's important to point out, there was never any quote-un-quote secret agreement with the White House," Johnson said.
The briefing by the White House aides was the latest attempt by the administration to control a story that has caused a fair amount of political and PR damage. The charge of backroom trading seemed to fly in the face of several promises made by then-Sen. Obama during the presidential campaign, among them that he would use the power of government to get more affordable drugs for seniors and that health care legislation would be conducted in an open and transparent manner.
On Monday, the trio of White House officials sought to clear the air of such criticism. Beyond the issue of rebates, they insisted no exchanges or promises had been made. The administration retained the right to use the leverage of the federal government to negotiate lower drug prices, they said.
"There have been a lot of stories in the New York Times that have confused the matter much further," said one senior aide. "But I'd think about it this way. [The pharmaceutical industry] believed in two things: That the current course we were on was unsustainable for the health care system. Something is going to break here eventually, which would be very bad for their business. And two, health reform is likely to happen. And so, they came to the table with a proposal that they thought - where everyone was going to take a haircut in this process - they came with a proposal which said we can be for this at this number. Can you guys go forward with this number? And that was the $80 billion number... That is the full extent of the deal."
Popular in the Community