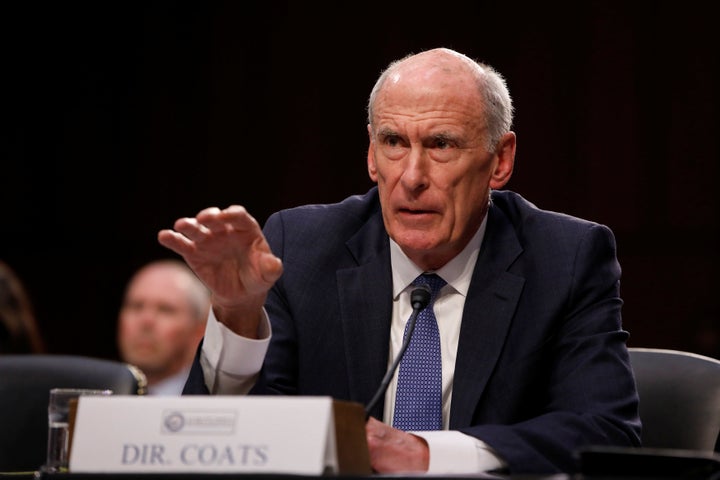 WASHINGTON (Reuters) - The White House and U.S. intelligence chiefs Wednesday backed making permanent a law that allows for the collection of digital communications of foreigners overseas, escalating a fight in Congress over privacy and security.
The law, enshrined in Section 702 of the Foreign Intelligence Surveillance Act, is due to expire on December 31 unless Congress votes to reauthorize it, but is considered vital by U.S. intelligence agencies.
Privacy advocates have criticized the law though for allowing the incidental collection of data belonging to millions of Americans without a search warrant.
The push to make the law permanent may lead to a contentious debate over renewal of Section 702 in Congress, where lawmakers in both parties are deeply divided over whether to adopt transparency and oversight reforms.
"We cannot allow adversaries abroad to cloak themselves in the legal protections we extend to Americans," White House Homeland Security Adviser Tom Bossert wrote in an editorial published in the New York Times newspaper on Wednesday.
U.S. Director of National Intelligence Dan Coats, speaking on behalf of other intelligence agency leaders, also told the Senate Intelligence Committee panel on Wednesday that the statute should be made permanent, saying it was necessary to keep the United States safe from national security threats.
NSA Director Rogers added that the law had been vital to preventing terrorism in allied countries as well.
Fourteen Republican senators, including every Republican member of the Senate intelligence panel, introduced a bill on Tuesday that would make part of Section 702 permanent.
The statute, which grants the National Security Agency a considerable freedom in the collection of foreigners' digital communications, normally comes with a "sunset" clause, meaning that roughly every five years lawmakers need to reconsider its impact on privacy and civil liberties.
Intelligence Director Coats said it was not feasible for the NSA to provide an estimate of the number of Americans whose communications are ensnared incidentally under Section 702.
Coats and other officials had previously told Congress they would attempt to share an estimate publicly before the statute expires. A frustrated Democratic Senator Ron Wyden, who has asked for such an estimate for several years, said Coats "went back on a pledge."
Privacy advocates criticized the push to make Section 702 permanent, arguing that regular reviews of the law were necessary to conduct appropriate oversight and prevent potential abuses.
"After months of criticizing the government for allegedly spying on his presidential campaign, President Trump is now hypocritically endorsing a bill that would make permanent the NSA authority that is used to spy on Americans without a warrant," said Neema Singh Guliani, legislative counsel with the American Civil Liberties Union.
Disclosures by former NSA contractor Edward Snowden in 2013 revealed the sweeping nature of 702 surveillance, prompting outrage internationally and embarrassing some U.S. technology firms shown to be involved in a program known as Prism.
Last week, Facebook , Amazon , Alphabet Inc's Google sent a letter to Congress urging lawmakers to adopt several reforms to the law, including codifying the recent termination of a type of NSA surveillance that collected Americans' communications with someone living overseas that merely mentioned a foreign intelligence target.
Making the law permanent without changes would preclude codifying that change.
Reuters reported in March that the Trump administration supported renewal of Section 702 without any changes, citing an unnamed White House official, but it was not clear at the time whether it wanted the law made permanent.
(This version of the story corrects paragraph 14 to add dropped words "embarrassing some U.S. technology firms involved in")
(Reporting by Dustin Volz; Editing by Alden Bentley and Paul Simao)
Popular in the Community