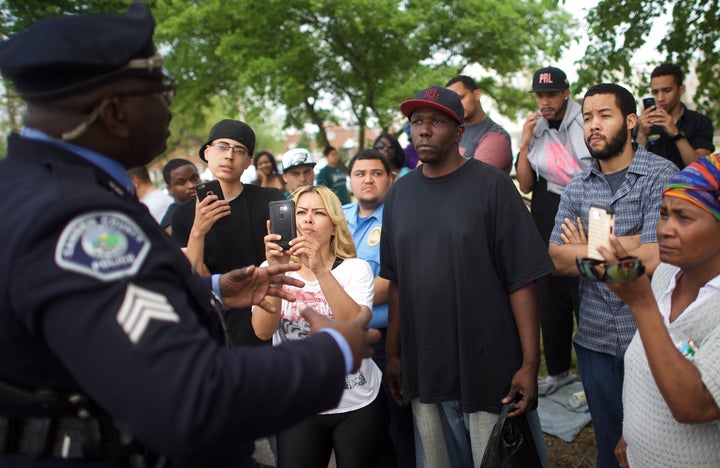 The White House on Monday slammed FBI Director James Comey's notion that pervasive cellphone footage featuring police actions has led to an uptick in violent crime.
Comey's comments from last week were brought up during Monday's daily briefing with White House press secretary Josh Earnest after The New York Times reported several people at the Justice Department "privately fumed" at the remarks. Earnest said there was no evidence to back up Comey's statements.
"In fact, you hear law enforcement leaders across the country indicating that that's not what's taking place," Earnest said.
Comey has for several days blamed an increase in shootings and killings, in part, on the frequency of civilians reaching for their smartphones to document anything from a traffic stop to a protest. On Friday, he told several hundred students at the University of Chicago Law School the "era of viral videos" has led officers to feel they're "under siege" and unwilling to get out of their cars.
Comey also said the prevalence of drugs and guns may be to blame. On Monday, he reiterated to a group of law enforcement officials at the International Association of Chiefs of Police that he had a "strong sense" officers were changing their behavior for fear of being caught on camera.
"Each time somebody interprets [the] hashtag 'Black Lives Matter' as anti-law enforcement, one line moves away, and each time that someone interprets [the] hashtag 'Police Lives Matter' as anti-black, the other line moves away," Comey said, using an analogy of two lines, one representing law enforcement and the other local communities.
The term, named after last year's unrest in Missouri, was coined by the Times and links the rise in violent crime to harsh scrutiny over officers' use of force. In fact, the rise in murder rates, which launched the notion that "#BlackLivesMatter Costs Black Lives," has drawn harsh criticism.
The Atlantic's Ta-Nehisi Coates has adamantly stated "there is no Ferguson effect" and called the link between crime and less-aggressive policing "utterly baseless."
Obama is scheduled to speak at the International Association of Chiefs of Police in Chicago on Tuesday.
Popular in the Community