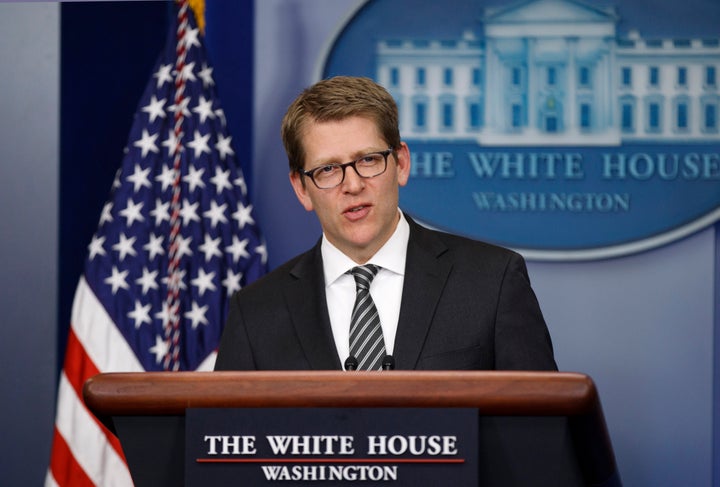 WASHINGTON -- The White House is throwing its support behind a decision by TransCanada to build a portion of the Keystone XL pipeline, even though the project will result in more oil going overseas and potentially higher gas prices.
White House press secretary Jay Carney said President Barack Obama "welcomes" the news that the Canadian pipeline company is moving ahead with its plans, despite the fact that the administration halted work on the cross-border portion of Keystone through 2013 -- a move that sparked outcry among congressional Republicans -- until TransCanada works out a new route through Nebraska that avoids ecologically sensitive areas.
"As the President made clear in January, we support the company's interest in proceeding with this project, which will help address the bottleneck of oil in Cushing that has resulted in large part from increased domestic oil production, currently at an eight year high. Moving oil from the Midwest to the world-class, state-of-the-art refineries on the Gulf Coast will modernize our infrastructure, create jobs, and encourage American energy production," Carney said in a statement.
But if the argument for building Keystone is to generate new oil within the United States and bring down gas prices, TransCanada's plans don't deliver. In fact, environmental groups say, TransCanada's plans for Keystone mean more domestic oil will head overseas and a potential spike in gas prices.
"At a time of public worry about rising gas prices, lawmakers should be concerned about a project that will [be] diverting oil from the Midwest gasoline refining operations to Gulf Coast diesel refining operations thereby raising U.S. oil and gas prices," Susan Casey-Lefkowitz, director of the International Program at the National Resources Defense Council, wrote in a Monday blog post.
"The southern route pipeline will still provide the main service to oil companies that Keystone XL would provide: it will divert tar sands from the Midwest to the Gulf, raising American oil prices and likely also gasoline prices. An Oklahoma to Texas tar sands pipeline will mean more tar sands converted to diesel and available for export overseas."
Kim Huynh, speaking for Friends of the Earth, accused the president of trying to have it both ways by touting his commitment to clean energy "while simultaneously shilling for one of the dirtiest industries on Earth" by endorsing the pipeline's construction.
"What the administration seems to be missing is that the southern segment of this pipeline would exacerbate air pollution in refinery communities along the Gulf Coast and threaten our heartland with costly spills -- all for oil that likely won't make it to Americans' gas tanks," Huynh said in a statement.
Carney defended the importance of the pipeline in expediting domestically produced oil into international markets.
"It's a global oil market," Carney said during Monday's press briefing, when asked by The Huffington Post about the apparent contradiction in energy goals. He reiterated that the pipeline is important to clearing out "a glut" of oil in Cushing, which he said exists because of an increase in oil production domestically over the last eight years.
The White House spokesman said he didn't know how many jobs would be created as a result of TransCanada proceeding with part of the pipeline. "I don't have that, no," he said.
Congressional Republicans, who for months have criticized Obama for halting work on Keystone, didn't have much of a reaction to the news of TransCanada beginning work on a portion of the pipeline. Instead, they doubled down in their criticism of the administration for not allowing TransCanada to build the entire pipeline now.
"President Obama's denial of the Keystone XL pipeline permit is an absolutely monumental dodge of responsibility," said Sen. Dick Lugar (R-Ind.), who authored a bill last fall that would have forced Obama to issue a permit for Keystone within 60 days. "Americans are screaming for more affordable oil supplies. The irony is that Democratic Senate leadership is calling for more oil from Saudi Arabia even as they continue to oppose oil from Canada."
Michael Steel, spokesman for House Speaker John Boehner (R-Ohio), said the fact that TransCanada is moving forward on part of the pipeline means Obama should just approve construction on the whole thing.
"It's good news that progress is continuing on a project that would creates tens of thousands of American jobs, and keep Canada from selling North American energy to the Chinese," he said in a statement, "but it also makes the Obama administration's refusal to approve it even more disturbing."
Popular in the Community