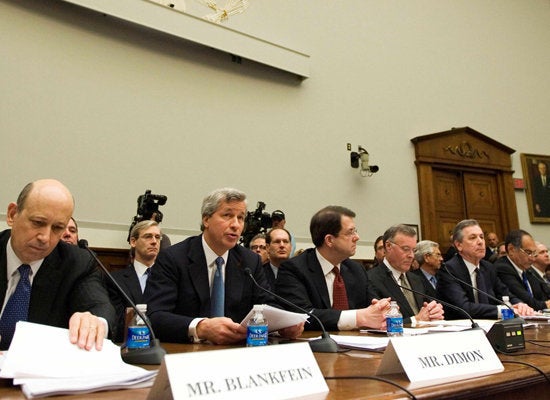 In addition to unveiling the results of the stress tests on Thursday, the Federal Reserve made public the outlines and regulations for those banks that would need additional capital in order to remain solvent.
The tone was generally tough. But what stood out most was that the memo laid the groundwork for possible management changes at those institutions that still needed "to augment [their] capital buffer."
Tucked into a Joint Statement by the Treasury, Fed and FDIC is the declaration that "as part of the 30-day planning process, firms will need to review their existing management and Board in order to assure that the leadership of the firm has sufficient expertise and ability to manage the risks presented by the current economic environment and maintain balance sheet capacity sufficient to continue prudent lending to meet the credit needs of the economy."
As David Zaring over at the Conglomerate Blog notes, the language, "clears the way to get rid of beleaguered CEOs Ken Lewis and Vikram Pandit, though I still think the government might think that it owes Lewis for buying Merrill for top dollar."
Lewis, of course, already took a shot from the shareholders at Bank of America (which needs an additional $35 billion) when he was voted out of his chairman post. He remains as CEO.
The joint statement only requires an internal review of management. But in private conversations with some public officials, one gets the sense that the White House is under growing pressure to push for new leadership at these banks.
Treasury Secretary Timothy Geithner, in a separate statement, noted that should any of the banks that failed the stress test need additional government aid (right now, it is argued, they can raise the necessary funds through private means) his Department held the right to "evaluate" management.
"Going forward, in the event that financial institutions need significant government assistance in terms of the quantity or composition of capital, then in consultation with supervisors, Treasury will evaluate whether existing board and management are strong enough to restore the firm to viability without government assistance."
Asked about the topic on Wednesday, spokesman Robert Gibbs said, "In terms of management changes, obviously in both the case of financial institutions and in the case of auto companies, the government has ... weighed in on changes at the CEO level and at the board of directors level to ensure that going forward they felt that the management was in place to remedy the situation and ensure long-term viability without continued government assistance. We'll have to wait and see what these individual tests bring."

Related
Popular in the Community