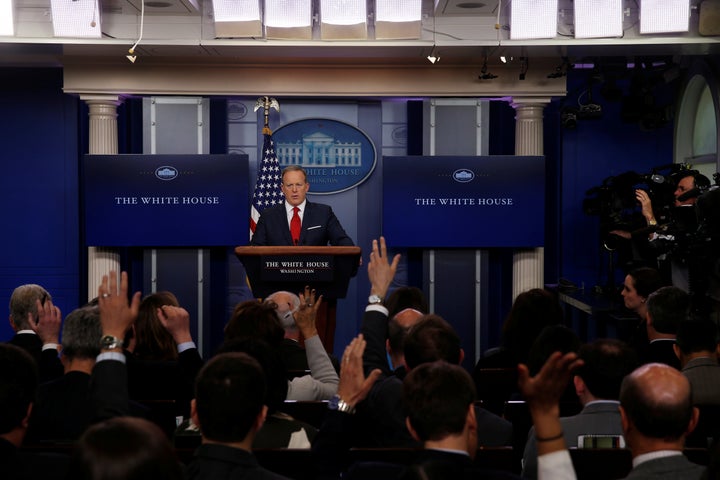 Just 36 percent of Americans say they have a great deal or a fair amount of trust in President Donald Trump's administration to present facts fully, accurately and fairly. The majority, 54 percent, have little or no trust in what the administration says.
A survey in January taken just after Trump's inauguration found less pronounced skepticism, with 43 percent trusting the administration while 48 percent said they had little or no trust in it.
The media, which Trump frequently berates, fares only marginally better. In the latest poll, 39 percent trust the media at least a fair amount, while 52 percent trust it not very much or not at all. In January, those numbers were 38 percent and 56 percent, respectively.
Just a tenth of the public has at least a fair amount of trust in both the White House and the media. A quarter trust the Trump administration but not the media, with 28 percent trusting the media but not the White House. Another 24 percent expresses confidence in neither.
Not surprisingly, attitudes toward Trump and the media track with preferences in November's election. Among those who voted for Hillary Clinton, 77 percent have at least a fair amount of trust in the media, while among Trump voters that figure is 12 percent. Similarly, 79 percent of Trump voters ― but just 7 percent of Clinton voters ― have that much faith in the administration.
Overall, 10 percent of Americans say media coverage of Trump is too positive, 37 percent that it's too negative, and 34 percent that it's about right.
Nearly half ― 46 percent ― say they believe the media wants Trump to fail, with 26 percent saying the media is neutral and just 8 percent that the media wants him to succeed.
Most of those polled ― 57 percent ― say the media should be neutral, with 19 percent saying the media should be rooting for Trump, and 10 percent that the media should be working against him.
Use the widget below to further explore the results of the HuffPost/YouGov survey, using the menu at the top to select survey questions and the buttons at the bottom to filter the data by subgroups:
The HuffPost/YouGov poll consisted of 1,000 completed interviews conducted May 11-12 among U.S. adults, using a sample selected from YouGov's opt-in online panel to match the demographics and other characteristics of the adult U.S. population.
HuffPost has teamed up with YouGov to conduct daily opinion polls.You can learn more about this project and take part in YouGov's nationally representative opinion polling. Data from all HuffPost/YouGov polls can be found here. More details on the polls' methodology are available here.
Most surveys report a margin of error that represents some, but not all, potential survey errors. YouGov's reports include a model-based margin of error, which rests on a specific set of statistical assumptions about the selected sample, rather than the standard methodology for random probability sampling. If these assumptions are wrong, the model-based margin of error may also be inaccurate. Click here for a more detailed explanation of the model-based margin of error.