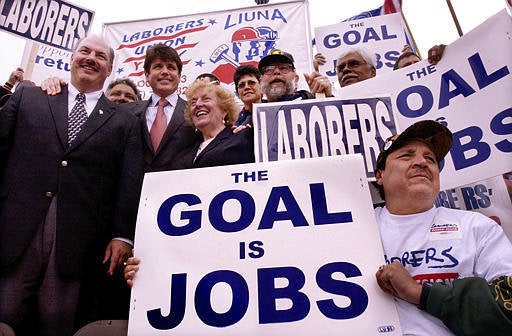 For roughly 45 minutes on Thursday -- over water, coffee and soda -- political directors at the AFL-CIO and senior White House officials met at the union conglomerate's headquarters to discuss all topics politics.
The meeting was not called for any particular reason. It was the usual weekly gathering that the two groups hold. But it came with the backdrop of a fraying relationship between the White House and the labor community after an administration official anonymously trashed labor leaders for pouring $10 million into Bill Halter's close-but-failed primary campaign against Sen. Blanche Lincoln.
Aides who were in attendance on Thursday said no formal apologies were offered to the AFL-CIO for the slights. But there was contrition. Top White House advisers Patrick Gaspard and Jen O'Malley said the comment was poorly made, and was wrong to suggest that the president thought unions should simply do the Democratic Party's bidding. Reps for the AFL-CIO, in turn, insisted that they would, as one aide said, "keep doing what we are doing," -- accountability politics as an institutional prerogative.
(As this discussion took place, incidentally, the Service Employees International Union filed 34,582 signatures for a general election challenge Rep. Larry Kissell (D-NC) -- another incumbent Democrat labor wants out.)
Fine, said the White House, but administration officials reminded the union leaders that the overall goal was to get the best candidates for worker's interest in Congress. There was no talk about the union's threat to sit out the Arkansas general election -- leaving Lincoln at a disadvantage. Nor was their talk about upcoming races in which labor could play a decisive role.
There was talk of policy, however. The higher-ups at AFL-CIO pushed both Gaspard and O'Malley on the administration's continued insistence of elevating deficit reduction over job creation. "It would be hard," one union hand said, "to get our members motivated without more done on jobs."
Gaspard, according to an attendee, confirmed that more focus had to be placed on economic stimulus. He pledged the president's commitment on that front. By 11:45 a.m. both he and O'Malley had left for other meetings. And the labor leaders filtering out of the union offices seemed relatively unmoved by the White House's effort at reaching a detente. The post-Halter-loss comment had been gratuitous, one said. Another aide insisted that the White House still didn't "get" why they felt the need to spend so much to try to defeat Lincoln, who was opposed to their most sacred issues.
It was, if nothing else, another chapter in an increasingly sour relationship between the Obama White House and the union leaders who helped bring it into being.
"I think, probably, [the relationship] leaves something to be desired," said AFSCME President Gerald McEntee during an appearance on MSNBC on Thursday. "I don't get to the White House very much myself, so I don't know personally... It's not bitter but it could be better."
Friction has been building over the past year spurred by the inclusion of a large chunk of tax cuts in the stimulus package despite the scant evidence that they would spur job growth. It extended into the decision by the powers-that-be in the White House to make deficit reduction a primary focus. And it boiled over during the health care debate when the president made an excise tax on insurance plans a priority (which labor hated) while throwing little evident support behind a public option (which labor loved). Perhaps the most telling moment came during those excise tax discussions when Obama had his economic aide, Jason Furman, try to pitch union leaders on the efficacy of the proposal.
"Don't fucking bullshit me," shot back a frustrated Richard Trumka, president of the AFL-CIO, at the time.
Through it all there was one thing (or person) keeping the relationship at an amiable level. That was Andy Stern, a close ally of the president who, as head of the Service Employees International Union, had visited the White House more than any other union leader. When Stern retired last month, the connections between labor and the administration frayed, far more so that has been reported. There is, currently, serious debate as to whether anyone can replace the emissary role that he played.
Stern declined a request for comment.

Popular in the Community